The Diamond C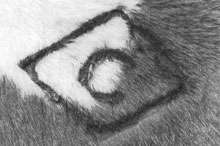 A Deep-Wilderness Home
By Betty Cook-Poeschel
Once upon a time in Nampa, a silver-haired man of many achievements named Marcus Alexander Cook fell in love with Mary Leone Elizabeth Mulder, a beautiful, fair-haired model from Weippe who was twenty years his junior.
Although their age difference flew in the face of correctitude, their love story blossomed into a bouquet of many years and three children. I was the first addition to the bouquet. A green-eyed springtime child with taffy blonde hair, it was said that I was the light in my father's eyes. My name, Betty Leone, was chosen to honor my mother, Leone, and my father's eldest sister, Elizabeth "Betty" Cook-Horst. To my father, however, I would always be "Babe."
My many and varied adventures began at the age of three months in a well-padded, wooden apple box that served as a cradle strapped to the back of a horse named Blue. We were about eighteen miles from Elk City on dirt road ending at a cattle-loading chute, which was the jump-off to a five-mile trek into the then-Selway Primitive Area (currently known as the Cove-Mallard Roadless Area). My mother had given birth to me at Samaritan Hospital in Nampa and my parents were bringing me home. Our destination was the storied Cook Ranch on Mallard Creek (pronounced "Crick"), 160 acres owned and improved upon over many years by my father prior to meeting my mother in the early 1930s. The closest neighbors, accessible only by horseback, were at Red River Hot Springs, an approximate twelve-mile trail ride to the north.
Even nowadays, when you break out of the forest on this trail, the view of a large open meadow is breathtaking and surreal. Depending on the season, you might see Indian paintbrush and columbine, and maybe a new fawn's bright spots will give up its hideout in the tall grass. Moose and elk may graze unconcerned among a scattered herd of white-faced Hereford cattle. Log buildings behind a gated log fence grace a rise at the far end of the vast meadow. It's a long ride to the gate.