The Early Years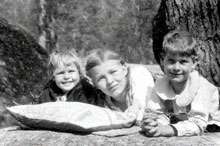 A Riggins Girl in Hells Canyon
By Murrielle McGaffee Wilson
Photos courtesy of Billy Jim Wilson
The author was born in White Bird on January 5, 1913. Her son, Billy Jim Wilson, who has written frequently for this magazine, edited her memoirs after her death in 1994 and had them published in 2004 as A Hells Canyon Romance. In the book, Murielle recounts living with her family in Lucile until after her second birthday, when they moved to Riggins, where her father Bill managed a store. Her aunt and uncle moved to Hells Canyon, where they had a property in partnership with Murrielle's parents. Throughout her youth, Murrielle went to the property regularly. Later, she taught school in communities on the Snake River and the family ranched in Hells Canyon. The following excerpts from her memoir are republished with permission.
My earliest memory is of holding two baby chicks in my fists, which cut off their wind and made them dead. Mother was annoyed with me, and I was horrified. I didn't want them dead, but dead they were. Another early memory is of looking out our living room window, and seeing a man lying asleep in the middle of the street. This was a Sunday morning, and he was dead drunk from the night before. I can remember being extremely worried for fear the teams and wagons that used the road would run over him.
Mother told me they would go around him, but I wasn't sure. Then here came Mr. Aitkens, one of my favorite ranchers, and sure enough he pulled his team off to the right and drove well around him. Then I relaxed and left my post of observation. The next time I looked the man was gone.
Since my mother was raised in a very conservative farming area in Wisconsin, she worried a good deal about raising a daughter in a town that had at one time been called Gouge-eye, and feared that seeing things like the drunk in the road might do serious things to my tender psyche. I always felt her worries were groundless. Like other children I took my surroundings for granted, and I liked Riggins.