The Friendly Neighbors Club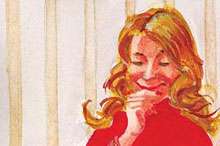 A Rural Idaho Women's Tradition
By Amy Larson
"Would you like to go to lunch with me sometime?" said Jean, a senior lady I'd just met. She was short, and her sparkling blue eyes, crisp voice, and white hair reminded me of an elf.
It was 2001, and we'd just moved out to the rural Lake Shore Drive area near Lake Lowell. Each home in the neighborhood had at least an acre or two, and I was out exploring. Jean walked to her mailbox at the same time I trudged up the steep gravel road, and our chat led to a lunch invitation. Worried I'd be lonely living the rural life, I said, "Sure." She was a spitfire, and I had plans to be that way at her age. I was ready to watch and learn.
A few days later, she picked me up in her sports car. I got inside and simply held on, certain she was a NASCAR fan. We stopped to pick up Thelma, who lived nearby. She laughed a lot, and told great stories. Three seemed like a good number for a get-to-know-you lunch, but at the restaurant, I was surprised to find nine others waiting there. They called themselves the Friendly Neighbors Club, all women who lived around Lake Lowell. They needed new blood . . . and that was me.