The Grand Loop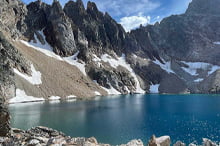 A Wilderness Honeymoon
Story and Photos by Taylor Dew
Not long after we entered the Sawtooth Range, the peaks that we would circle came into view. We gawked along their ridge line beside an older couple who told us this year would be their thirty-ninth wedding anniversary. They wished us good luck on both our new marriage and on the long trek we were starting.
John and I could have gone somewhere relaxing for our honeymoon, but chilling on a beach in the Caribbean, Italy, or Greece isn't how we like to travel. We get very little pleasure out of parking our bums at a resort and eating and drinking until we are gorged.
We love pushing our bodies to the limits and going to places few people even know about. Of course, everybody in Idaho knows about the Sawtooths, but we had never even visited the state.
When we began to plan the honeymoon, I remembered an epic YouTube video I had watched years ago. We found and watched it together and decided right away that we wanted to attempt the Grand Sawtooths Loop: a seventy-five-mile trail traversing some of the most awe-inspiring wilderness Idaho has to offer.
"Why Idaho?" people said to us. "Y'all are crazy."
Those kind of reactions made the point to me that even nowadays, relatively few people around the country realize just how special Idaho is.
John and I lived in Colorado from 2018 to 2023 but two weeks before our wedding in May of this year, we decided to change our lives. We moved back to his home in Mississippi to be closer to family and to start a farm. With that move, followed by the wedding, our lives had been a whirlwind since February, and this honeymoon was our first chance to be alone together.