The Grand Old Gal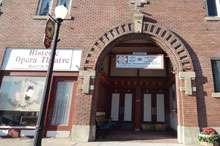 Opera House Centennial
Story and Photos by Amy Larson
Stepping into the Glenns Ferry Historic Opera Theatre felt like walking through a curtain that separates the present from the past.
The floor was filled with round tables draped in white linen and laden with bowls of crimson roses. Amid rich smells of old wood and dinner soon to be served, against a backdrop of velvety drapes on the stage and the chatter of patrons, I found it easy to imagine myself in another era. When a woman sat before a hundred-year-old piano by the stage and began to play oldtime tunes without sheet music, the scene was complete.
The occasion on this day last February was a celebration of the theater's one hundredth birthday. Renovated in 1994 by owners Rich and Connie Wills, the theater has now been staging performances for more than two decades by casts from around the area. While a typical season runs from early June through the end of August, events began this year in February to kick off Year One Hundred.
When I arrived for the gala and my first visit to the theater, I felt welcome right away, and it was clear to see that Glenns Ferry folk were big on hospitality. I couldn't resist snapping photos of almost everything, but was drawn to the balcony. Unsure if I would be granted access, I asked permission of a cast member who answered, "Sure, you can go anywhere you want."
I climbed the creaking, intricately carpeted stairway to the ledge overlooking the stage, where I found six plush chairs in the front row by the railing. I made a mental note to inquire about them later.