American Dreamer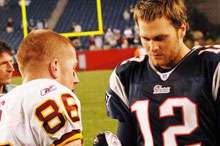 Smalltown Idaho Nurtures a Long-Shot Champion
Story by Brian D'Ambrosio
Photos Courtesy of Jimmy Farris
When Jimmy Farris was in the fifth grade in the mill town of Lewiston, which has a population of about 32,000 strung along a stretch of Snake River slackwater, his teacher provided each student with a sheet of paper displaying an empty picture frame. The kids were instructed to envision and illustrate their future within it.
"I drew a stick figure of a football player," Jimmy told me. "I believe it was Lawrence Taylor. I believed that in ten or fifteen years, I would be a linebacker for the New York Giants. So when I look back, I say, 'Wow, this was a lifelong dream.'"
I first met Jimmy in 2000, shortly after my arrival in Missoula to begin working as a sports beat writer at a local newspaper. One of my first stories was his game-winning catch in the semi-finals of the Division I-AA national championships for the University of Montana, where he had accepted a football scholarship. His grab catapulted the Grizzlies into the national championship game, and the celebration reverberated throughout the city. I remember a group of college kids spray painted, "Who Let Jimmy Farris Out?" on the front door of one of the rentals next door to me. Jimmy went on to become a Division I-AA All-American at wide receiver.
Missoula and Lewiston are separated by one of the slowest, most decelerated four-hour driving stretches in the United States. Since the Lewiston Tribune doesn't cover western Montana and the Grizzlies' games aren't televised in Idaho, the people of Lewiston were surprised when the undrafted Farris signed a free-agent contract in the National Football League. He was invited to attend the San Francisco 49er's pre-season camp for the longest of shots of making the roster of an NFL team.