The Hunt Is Personal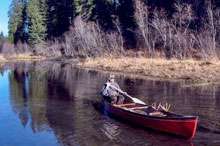 For Us, Anyway
Story and Photos by Kelly Lynch
I'm almost forty. I feel much younger, but realize I am not. I love the hunt, chasing whitetails with my dad in the steep, green mountains of northern Idaho. I respect the game, and to me harvesting a deer is personal.
My family enjoys the venison. But over the past few years, the hunt has changed. Many now feel the need to show their hunt, their kill, to the world. For them, the hunt is not personal, the game not something to be respected. Whether for the little notoriety a video posted online brings or for bragging rights, they hunt for different reasons than I and others like me do.
I still hunt whitetails like my dad does, and like his dad did. We hunt simply and quietly, enjoying the camaraderie and hoping more for the other's success than our own. We hunt country we know well, country I grew up in. We leave the familiar and step back into a time and place I hope will never change—a fresh, clean place that has thus far remained hidden from the world. A place that many only find in the pages of fiction.
In C.S. Lewis's The Lion, the Witch and the Wardrobe, the Pevensie children find such a place. They have been removed from a life of WWII bombing raids near their London home to an old castle, nestled safely in the country and away from the ugliness of war. One day, while exploring their new home, they by chance enter a wardrobe and they're transported to a different world called Narnia. It's a strange country—not necessarily safe, but nonetheless a place they grow to love because of its wildness and the freedom they find there.