The Legend Comes to Town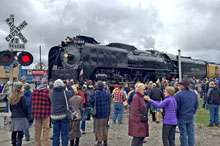 And I Will Get That Ride
By Alice Schenk
On April 21, when the Living Legend came through Minidoka on its way to Boise, I stood by the tracks, soaking up the romance of decades past and holding a thought that had germinated in me over the previous week, ready now to become an opportunity.
Ed Dickens, Jr., senior manager of Heritage Operations for Union Pacific, finished visiting with a group of students from West Minico Junior High School in Paul, and I casually raised my hand.
"I have a question. Can I catch a ride to Shoshone [the next scheduled stop], and then my husband can pick me up?"
Ed smiled graciously and said no.
But I was determined to get a ride on the newly restored steam locomotive No. 844, hailed as the Living Legend because it is the only steam engine in Union Pacific's fleet that has never been taken out of service. A high-speed passenger engine, 844 has been working for UP for seventy-three years. It was placed in freight service when diesels took over passenger train duties, and was saved from the scrap pile in the early 1960s, serving ever since then as an ambassador for Union Pacific. One of the largest and most powerful steam locomotives still in operation, it has run hundreds of thousands of miles as Union Pacific's ambassador of goodwill, and in April was making a sixteen-hundred-mile roundtrip from its home in Wyoming to help celebrate the historic Boise Depot's ninety-second anniversary.