Laundering My History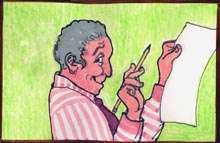 For a Cleaner America
By Steve Carr
August is scout camp season in Idaho. When we were thirteen, we couldn't think of a better place to enjoy the wonders of the outdoors, even if a campfire, burning sticks, and melting plastic cups were our primary focus.
I wish I could say I have fond memories. Truth is, I remember scout camp as a muddy, smoke-filled, sweaty-hot and then sticky-cold week in a stinky sleeping bag, away from what was a pretty comfortable teenage existence at home.
Despite all that, I was, for the most part, a determined scout. I can't say I mastered all the knots and I needed more than a single match to light a fire, but I did get a handful of merit badges. Granted, they were obtained mostly by the kind of group effort in which the scoutmaster attempted to instruct and then resorted to checking off requirement boxes before sending us to the volunteer dad at the next station. I wasn't much of a self-starter when it came to finding and completing elective badges. What city boy really wanted to learn about lifesaving in a glacier-fed, leech-filled swimming hole? However, had there been a merit badge on the basics of money laundering, I might have earned that one.