The Perfect Tree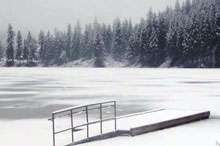 Not Counting Location
Story and Photos by Janice A. Abel
In the eager heat of early summer, while songbirds trilled the joys of bug hunting for demanding offspring, as brilliant sunshine chased off all potential defects, I chose the perfect Christmas tree. This fir was stunning, and on state land, free for the taking.
The tree's symmetry was untarnished by missing limbs, which would have happened if part of the tree had faced toward a corner like a third-grader punished for goofing off in class. The branches were thickly spaced, so no sentimental decorations would need to dangle precariously. This tree boasted stature, strength, and moxie.
It grew west of our home on Kelso Lake, about ten miles as the crow flies or two hundred strategically placed potholes away, considering that I had to choose driving over flying. That it resided more than a mile from the nearest road mattered not at all on a warm July day. Dust clouds rose from my heels as I followed the skid trail out, mentally marking the tree's location for a December return. A leisurely stroll in summer meant only a bit ­­more difficult hike or ski in winter. I could handle a short frigid hike in cold weather for a freebie Christmas tree. No problem.