S'mores Rolls/Dill Pickle Dip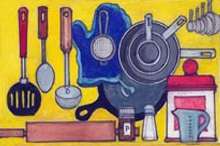 Holiday S'mores Rolls
INGREDIENTS
10 oz. mini marshmallows
¼ c. butter
5 c. Rice Krispies™ cereal
¾ c. graham cracker crumbs
1 c. marshmallow fluff spread
1 c. milk chocolate mini chocolate chips
Holiday-colored candy sprinkles
PREPARATION
> In a large glass container, melt marshmallows and butter together in microwave.
> Add rice cereal and graham cracker crumbs to marshmallow mixture. Once combined, spread evenly onto a 9" x 13" buttered baking sheet, then spread marshmallow fluff mixture over cereal combination.
> Sprinkle mini chocolate chips over marshmallow topping and cereal mixture.
> Heat at 200 degrees for two minutes.
> Remove from oven and spread melted chocolate evenly out over cereal and marshmallow topping, then turn
up edges of mixture on one side, and roll like a jelly roll.
> Wrap in wax paper and chill in refrigerator one hour.
> Cut in one- or one-and- a-half inch sections, similar to a jelly roll. Top with holiday-colored candy sprinkles.
NOTE: Our family loves S'mores, and my sons Taylor and Jared are champions when it comes to prepping the S'mores marshmallows for their mom. They have much more patience than I, as I typically tend to just torch the thing and call it good. I've never seen such perfectly, evenly roasted masterpieces as when my sons are on the job. Heart-melting. With this recipe, I can plan to pay them back in kind, well past our regular camping season.
Dill Pickle Dip
Cathy Pollak of NoblePig.com
INGREDIENTS
1 (8 oz) package cream cheese, softened
1/3 cup diced red onion
1/4 cup dill pickle juice
2 teaspoons finely chopped garlic
1 teaspoon Old Bay™ seasoning
1 teaspoon coarse ground pepper
2 cups diced dill pickles
PREPARATION
> In a large bowl add cream cheese, red onion, pickle juice, garlic, Old Bay seasoning and pepper. Combine with a hand mixer. Add pickles and continue mixing until fully combined. Refrigerate at least 3 hours and up to three days before serving.
NOTE: I met award-winning food, travel, and lifestyle blogger Cathy Pollak of NoblePig.com when she visited Idaho during the TasteIdaho'15 Tour, sponsored in part by the United Dairymen of Idaho and Idaho Division of Tourism. While in the Gem State, she witnessed the
birth of a calf at an Idaho dairy and attended the Trailing of the Sheep in Sun Valley. A professed fan of dill pickles, Cathy offers this unique and addictively delicious new style of dip for crackers, chips, or breads. You can see more of her creative recipes at NoblePig.com