The Portneuf Paddle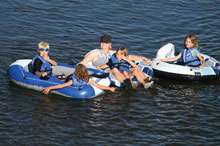 One Way, No-Brainer
Story and photos by Valerie Illguth
Our family spent the summer of 2017 in Yellowstone National Park and then moved to Pocatello, where we rented a house that had the Portneuf River almost literally in its backyard. I began to walk often along the bike and walking trail built along the riverbanks north of Centennial Park. When I heard about the inaugural Poky Portneuf Paddle, organized in the summer of 2019 by the city government's Portneuf River Vision to help promote the river as a clean recreation destination, I was eager to participate.
I brought my children to the event, which was a little tricky. My husband Brandon was working weekdays out of town and wasn't available to assist with our four elementary-school-aged children. I wondered if other people would worry about our safety when they saw a mother trying to float the river with four youngsters, but my plan was for our family to try to look like we knew what we were doing. If we appeared confident, I hoped other people wouldn't be concerned about us getting into the water.
There were two routes to take on the river. Adventurous floaters went the long way, entering the river at Edson Fichter Nature Area, three miles south of Old Town Pocatello. For more than two hours, they would float in the shallow water of the Portneuf River while navigating around rocks and over small waterfalls, and passing under bridges they normally drove over. Since this was our first time floating the river, I opted to do the shorter float, which put in at a location built for this event at Taysom Rotary Park, and ended a half-mile away, at Centennial Park. This route was much easier than the longer excursion, with no rocks or waterfalls to worry about.