The Shadow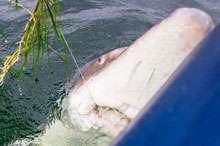 An Omen in the Ditch
By Patrick McCarthy
Progress may have been all right once, but it went on too long. — Ogden Nash
A shifting shape-shadow appears in the ditch below me, making my ten-year-old eyes sparkle with awe and fright. I wildly wave my arms, summoning my brothers and our friends, who are playing nearby. They scurry to the twinkling scene but the Great Shadow, which doesn't thrive on notoriety, has skedaddled. Its quick disappearance deepens my friends' dubiety—and yet, struck with youthful curiousness and exuberance, we persist in searching.
"The monster!" yells Roland Horn, a destitute neighbor kid. We head pell-mell to an embankment where the Shadow rests below us, facing an iron-clad head gate that has stilled its advance. The Shadow's long snout, four strange feelers or barbels near its mouth, and torpedo-shaped body intrigue us. The monster's two dark eyes peer warily at us, which we interpret as trouble.
What neither this innocent monster nor we kids realize is that the abbreviated watery highway, called the Noble Ditch, has the ignoble role of the passerby's graveyard, which in turn is a sign of progress. The Great Shadow—a seven-foot-long white sturgeon weighing 150 pounds—has swum a long way, arriving via several rivers and the nearby Farmer's Cooperative Canal. His iconic presence forecasts ruthless change in the Fruitland of 1955. Old Fruitland, slowly disappearing, is being overtaken by new Fruitland, now a hub of the upper Treasure Valley.
We kids, left without supervision, are happily facing a sun-drenched, dog day afternoon in summer. We watch in awe, with trepidation, as the Shadow squirms in water a yard wide and a yard deep. We can't catch the Great Shadow—what would we do with a slippery fish so huge? As I look back now, his fleeting presence seems to have signaled the evanescence of time.