September 2018 Calendar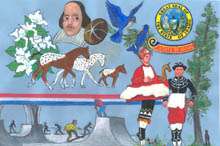 By Les Tanner
Cancellations or changes due to weather, illness of performers, and other such things, although rare, are bound to occur. Double-checking with the event coordinators about locations, dates and times is always a good idea.
1 Youth Zone, Kamiah
1 Free Admission Day, Art Museum of Eastern Idaho, Idaho Falls
1 Cowboy Fast Draw competition: We teach gun safety while giving men, women, boys & girls ages 8 and up the chance to find out just how fast they would have been in a gunfight in the 1800's-style fast-draw shooting. Free to spectators. 10:00 AM – 3:00 PM, 10648 N. 25th E., Idaho Falls.
1 Trunk Sale: Coolin Civic Organization's annual "Sell it out of your Trunk Sale" No charge; you keep your proceeds! Everyone welcome 10:00am – 2:00pm Community Center, Coolin
1 Stock Car Races: All Day @ Idaho Falls Raceway/Noise Park, Idaho Falls
1 Main Street Market, 9:00-2:00PM, Meridian
1 Latino Fest: Music, dance, food, workshops and pictures. Enjoy live bands, dance contests, food trucks, Zumba, and more. Bring your family, your friends—and your dancing shoes! Basque Block, Boise
1-2 Coaster Classic Car Show: Nostalgic cars at Silverwood Theme Park., Athol
1-3 Schweitzer Fall Fest: Annual outdoor music festival with performances, chairlift rides, kids' activities and more under the tent. Schweitzer Mountain Resort, Sandpoint
1-3 Under the Freeway Flea Market, Wallace
1-3 Wagon Days, Ketchum/Hailey
1-3 Twin Falls County Fair, Filer
1-3 Labor Day Weekend Open House: Artist Demonstrations & Kids Craft Tent. 10:00am-5:00PM, Autumn's Loft, Priest Lake
1-29 Downtown Farmers Market: SATURDAYS, Vendors, 9am-1pm, Main Street, Twin Falls
1-29 Capital City Public Market: SATURDAYS, 9:30-1:30PM, Downtown Boise
1-29 Community BINGO: SATURDAYS. Ages 18+, not just seniors. Fund nutrition program for seniors. 6–8 p.m. (doors open at 4:30 p.m.). Senior Citizens' Center, Idaho Falls
1-29 Saturday Cartoons: 9:00AM-12:00 Noon, Kenworthy Performing Arts Centre, Moscow
1-29 Farmers Market, SATURDAYS, 9:00AM-1:00PM, Idaho Falls
1-10/27 "Visualizing Science" Exhibit: A team of artists, designers and scientists have collaborated to create visual interpretations of scientific issues. Art Museum of Eastern Idaho, Idaho Falls
2 Astronomical Idaho:12:00 PM, Idaho Museum of Natural History, Pocatello
2 Blue Star Museum: National Endowment for the Arts, Blue Star Families, the Department of Defense, and more than 2,000 museums across America offer free admission to the nation's active duty military personnel and their families from Memorial Day through Labor Day Free to Active Military personnel and up to 5 members of their family; Idaho Museum of Natural History, Pocatello
2 Wooden Boat Show & Parade: Elkins Resort, Priest Lake
2 Western Tractor Pull Nationals, Eastern Idaho Fairgrounds, Blackfoot
4 Train Depot Open House, 12:00 Noon, Caldwell
4 Project LINUS: A local group that makes blankets and quilts for children in crisis in the Pocatello area. 1:00-4:00PM, First Presbyterian Church, Pocatello
4 Art Endeavor! Do you enjoy art? Are you interested in learning and doing more? All ages welcome! 4:30 – 6:00 PM, Nampa Public Library
4 Young Readers: There will be book readings and activities for kids 6-10 years old, . Parents are welcome to attend with their child, but not required. 4:00 PM – 5:00 PM, Book People, Moscow
4 Kilroy Coffee Klatch: 10:00-12:00 at Nampa's Warhawk Air Museum; FREE for ALL veterans and ALL veterans are welcome; Coffee and breakfast treats are served at no charge. No RSVP required – just show up; Nampa
4-25 Plaza Movement Series: TUESDAYS. Tai Chi and Qi Gong (9:00-10:00AM); Yoga (12:00-1:00PM); Free; Indian Creek Plaza, Caldwell
4-27 Baby & Toddler Storytime: TUESDAYS and THURSDAYS. Focuses on children 0-3 years old.10:15am – 11:00am, Nampa Public Library
5 Alive after Five, 5:00-7:00PM, Civitan Plaza, Idaho Falls
5 The Club!: This is a new group function for teens with disabilities. Join us for music, crafts, games, movies, and more! Ages 13-18 welcome! Attending patrons must be accompanied by an adult. 2:30-3:30PM, Nampa Public Library
5 Job and Career Fair: 9:00AM-3:00PM, Free; Riverside Hotel, Boise
5-26 Parent Play Date: WEDNESDAYS. A chance for parents to work on an art project with their pre-schoolers (3-5 years) without making a mess at home. $6 first parent and child, $3 extra child. 11:00-12 Noon, ARTitorium, Idaho Falls
5-26 Farmers Market: WEDNESDAYS, 3:00PM, Indian Creek Park, Caldwell
5-26 Alive-After-Five
6,20 Crochet & Knit: Ages 12 and up. Bring #4 worsted yarn, knitting needles (size 8 or 9 and/or crochet hooks size G or H). Patterns and instructions provided. Beginners through advanced welcome. 4:30pm – 6:30pm, Nampa Public Library
6 First Thursday, 5:00PM, Downtown Boise
6 Drop-in Computer Clinic: 10:30AM-12 Noon. Drop in for computer or technology help. Public Library, Caldwell
6 Teen Movie Night: Bring your friends and enjoy a movie and free popcorn! 4:00pm – 6:00pm, Nampa Public Library
6-27 Farmers Market: THURSDAYS. Produce, local artisans, handmade items, baked goods, and more. 3:00-7:00PM (Cultivate Children's Program, 5:30-6:30), Bette Uda Park, Homedale
6-27 Farmers Market: THURSDAYS, 1:00PM,
Soda Springs
6-27 Teen Thursdays: THURSDAYS. Grades 6-12. Creating, building, and tinkering. 4:00-5:00PM, Public Library, Caldwell
7 First Friday Late Night: 5:00 PM – 8:00 PM at Tautphaus Park. Explore the zoo in a new light! Zoo admission is only $5.50 for adults 13 and over, kids 4-12 are only $3.50. Idaho Falls
7-8 3 Bears Trail Races, Deer Cliff Inn, Preston
7-8 Zoo Tots (Ages 2-PreK)"Tiger Tales": Explore the zoo through fun games, crafts, music and more. An adult must attend with each child. Cost ($10/$12) covers class and zoo admission for 1 adult and 1 child. Did you know tigers sleep for 18 to 20 hours a day?! Let's read "Don't Wake up the Tiger" and make a special gift for our beloved tiger. 10:00 AM – 10:45 AM, Idaho Falls Zoo at Tautphaus Park, Idaho Falls
7-9 Boise Art Museum's Art in the Park, 10:00 AM, Julia Davis Park, Boise
7-28 CreekFeastFood Jam: Local Food Trucks; FRIDAYS, 5:30-9:00PM, Indian Creek Plaza, Caldwell
7-28 Cool Summer Nights: FRIDAYS. Games and Activities (5:30-9:00PM) and Dancing (7:00-9:00PM); Free; Indian Creek Plaza, Caldwell
7-28 Farmers Market,: FRIDAYS, 4:00-8:00PM, Rexburg
8 Salmon Run: "A foot race along the beautiful Salmon River": 12:00 PM, City Park, Riggins
8 Museum Work Day: Volunteers welcome; 8:00AM; Lunchtime Seminar (bring your own lunch): Dr. Luc Leblanc, W.F.Barr Entomological Museum, University of Idaho: "Survey of Fruit Flies in Bangladesh and Nepal". Location: the O.J.Smith Museum of Natural History, Boone Hall, The College of Idaho, Caldwell
8 September Slam – Demolition Derby: 7:30 PM – 11:00 P, Eastern Idaho State Fairgrounds, Blackfoot
8 Moms & Marshmallows: We will be making things out of marshmallows! Moms and kids of all ages are welcome. 11:00AM-12 Noon. Public Library, Caldwell
8 3rd Annual Patriotic Car Show: Standing for the Red, White and Blue: Bikes, Cars, Boats. Entertainment, Vendors, Food. 10:00 AM – 4:00 PM, Rupert
8 Symphony in the Park: Beautiful music on the banks of the Snake River. Bring your lawn chairs and picnic baskets 5:30 PM – 7:30 PM. Idaho Falls
8 Injectors Car Show: 19th Annual Car Show. 9 a.m. until 3 p.m., downtown Sandpoint
8 Mudgy and Millie's 10th birthday party. There will really be TWO parties, one at 10 a.m. and one at noon. Community Room, lower level of the Public Library, Coeur d'Alene
8-29 Long Camp Farmer's Market; SATURDAYS, Kamiah/Kooskia
9 Grandparents' Day at the Zoo, Zoo Idaho, Pocatello
10,24 Bilingual Storytime! All ages welcome. 10:15am – 11:00am, Nampa Public Library
10-24 Family Fun Art Night: MONDAYS. Work together as a family to complete an art project. $4 per person, 5:00-8:30 PM, ARTitorium, Idaho Falls
10-24 Gaming: MONDAYS. Ages 9-18. Alternates Pokémon, board games, and video gaming on the WiiU and PS4. 4:30pm, Public Library, Caldwell
11 Middle-Grade Readers: Book readings and activities for kids 9-14 years old, 4:00 PM – 5:00 PM, Book People, Moscow
11 Make It! Craft Club: Ages 16+. Get crafty and make something new each month. All materials provided; take home what you make. 7-8:30pm, Public Library, Caldwell
12 Bots and Builders: Plan, program, and play with Dash and Sphero robots, while learning the basics of robotic logic and computer programming. For ages 6-13. 4:00pm – 5:30pm, Nampa Public Library
12-14 AMEN Boise Free Clinic: FREE dental, general medical, vision, preventative and educational services. There are no pre-qualifications required. This is a first come, first serve clinic. Expo Idaho, Garden City
13-15 Latah County Fair, Fairgrounds, Moscow
13-16 Boise Film Festival: Celebrate film, elevate ideas, and connect communities. Various downtown venues throughout the festival weekend. Boise
13-16 Clearwater County Fair & Lumber Jack Days, Orofino
14 Exhibit: "Keeping History Alive": 50th anniversary exhibit showcases some of the Museum's favorite artifacts. Free admission. 5:00-8:00PM, The Museum of North Idaho, Coeur d'Alene
14-15 Lost N Lava Cowboy Gathering, Shoshone
14-15 Spud Day: Community Orchestra, Free Baked Potatoes w/trimmings, Potato Picking Contest, Horseshoe Tournament, Talent Show, and more. Shelley
14-16 Hyde Park Street Fair, Boise
15 Train Depot Open House, 9:00 AM, Caldwell
15 Community Breakfast: $5 donations, kids under 12 eat for free. Sponsored by Veteran of Foreign Wars District #8, 8:00 AM – 11:00 AM. VFW Hall, Rexburg
15 Boater Safety Class: A FREE boating education class. Covers all aspects of boating from safe operations, navigational rules, water survival, and legal requirements for operating a boat. Pre-registration is required. Call 208-878-9358. 9:00 AM – 4:00 PM, Cassia County Sheriff's Office, Burley
15 Harvest Classic Fun Run, Nampa
15 Community Block Party: Full of wacky competitions and ridiculously fun activities. Kleiner Park Meridian
15 St. Anthony Fly-In, St. Anthony
15 Community Workout: Free. Join us for a 1-hour class at 9:00 AM. Open to anyone of any fitness level. Corner of Front Street and 11th Ave., Nampa
15,22 Raceway Races: Enjoy car racing at the Pocatello Raceway, Pocatello
16 Sunday Symphony: Featuring the Idaho Falls Symphony Jazz Quartet. 4:00-6:00PM, City Plaza, Driggs
18 Free Food Pantry: 5:50 PM – 7:30 PM, Wilcox Fresh Warehouse, Thornton
18-22 Sport Horse National Arabian & Half-Arabian Championship Horse Show: Idaho Horse Park, Nampa
19 Creative Writing Adventures for Teens: Grades 7-12. Your imagination is the limit. Bring food and something to drink., if you wish. 7-8:30 p.m., Public Library, Idaho Falls
20 "What are you reading?" Book Club: Open to all adults, 7:00-8:00PM, One World Café, Moscow
20-21 FitOne Healthy Living Expo: The Expo is free and open to the public! Boise Centre, Boise
21 Crafter's Club: Ages 18+. Come work on your craft projects with other people – knit, crochet, embroider, you name it. 2:00-3:00pm, Public Library, Caldwell
21 "Art of Building a Community": Artisans display and sell their pieces in a climate-controlled environment. Karcher Mall, Nampa
21-11/3 Farmstead Corn Maze & Pumpkin Festival, 1020 S Rackham Way, Meridian
22 Custom Auto United Truck & Tractor Event: 10:00 AM – 11:00 PM, Rodeo Grounds, Idaho Falls
22-23 Thousand Springs Arts Festival. Thousand Springs State Park, Hagerman Valley
27 Beekeeping for New-Bees:, Learn the basics of beekeeping and how you can get started.. 6:30-7:30pm, Public Library, Caldwell
27 Music Adventures with Paige Moore: Fun and engaging music and movement programs for children 0-12 years old. 6:00-6:45PM, Meridian Library District, Meridian
27-30 Lewis County Fair, Nezperce
28 Baked Potato Bar Dinner Fundraiser: The only bar in town that comes with a side salad & dessert. Opens at 5:00pm. $6.00 per Adult, $4.00 for children under age 8. 4:30 PM – 6:00 PM , Lake City Center, Coeur d'Alene
28-29 Boise Basin Quilt Show, "Celebr-18". Expo Idaho, Garden City
29 Lions Club "Chuck Sterns Memorial" Turkey Shoot: Fun Day for All (except the turkeys?) 10:00am-2:00pm, Nordman Resort, Nordman
29-30 Snake River Fandom Con: If you are a fan of comic books, super hero movies or Harry Potter you will be excited to attend Fandom Con. 8:00AM-5:00PM, Mountain View Event Center, Pocatello
28-30 Gun Show: Greyhound Park & Event Center, Post Falls