The Steward of Arrowrock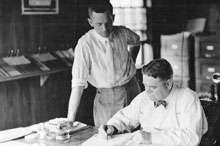 A Life in Documents
Sometimes the lives of our ancestors are encapsulated in a box or trunk discovered in a room upon the death of a loved one. Such was the case of Alfred Frederick (A.F.) McCarthy.
Not long ago, Russell Griggs of Mountain Home contacted this magazine about a trove of photos his great-grandfather, A.F., had collected during the construction of Arrowrock Dam on the North Fork of the Boise River from August 1913 to November 1915. As chief steward during the project, A.F. was in charge of thirty men running three shifts at a mess hall that at its peak of activity served almost a thousand workers. The images he collected bore no identification, which is why the ones shown on these pages have no captions. They were stored with seemingly every application or document of employment connected with any job A.F. held over a career spanning numerous states from 1891 to 1944.
The materials were discovered long after the death of Russ's paternal grandmother Margaret Griggs, who was the family record-keeper. The documents show that as a leader and organizer of men, A.F. McCarthy was "remarkable" and "possessed of marked executive ability" according to his colleagues, although you might not expect such accolades of a cook. Then again, he was a bit more than that.