The Toughest 11er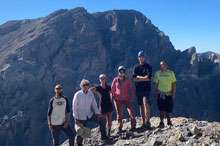 They Call It True Grit
By Tom Lopez
"Rock!" The shout rang out from above.
Click, click, clack, bang, and then the sound of a rock whizzing through the air was followed by silence. The softball-sized rock Daniel Todd had dislodged high above us bounced unseen at first and then flew off the cliff-face into and out of view within seconds. Daniel was climbing the vertical crack that leads to the summit of True Grit, an Idaho eleven-thousand-foot peak in the Lost River Range. Climbers are trained to instantaneously warn their partners when they dislodge rock. Daniel's shout was also a reminder of the many potential dangers ahead.
I sat on a perch next to April Watts, who was belaying Daniel. We were part of a group of six attempting to climb the only Idaho peak of its height that has no easy route to the summit. Whether we would get there depended on Daniel, the group's most proficient technical climber. The rest of our group consisted of Derek Percoski, Haylee Stocking, and Brett Sergenian.
True Grit is located on the south end of the range's treacherous Mount Corruption/Mount Breitenbach Divide. Triple Peak, Cleft Peak, and True Grit form a rugged cluster of otherworldly towers composed of steep, rotten rock. Because they are so difficult to climb, the attempt is made only by truly dedicated Idaho climbers, often referred to as "peakbaggers."
Peakbaggers seek to climb a group of summits categorized or listed by location or height or some other source of significance. Some of the most famous such peaks are the Seven Summits (the highest peaks on each continent), the 14ers (the Colorado peaks that reach above fourteen thousand feet) and, of course, the 8,000ers (the world's fourteen highest peaks, all of which rise above eight thousand meters or about 26,247 feet). The Idaho 12ers list is undoubtedly the most popular and the most climbed list of peaks in this state. Nearly three hundred people have climbed all the 12ers. Idaho's County High Point List of forty-four peaks is probably second in popularity. While many are working on that list, only a handful of have completed it. In the Boise area, the four Grand Slam Peaks are a popular goal for local hikers, especially in the spring.