The Wildest Win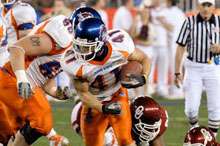 Going Back in Time to a Bronco Upset
By Garth Profitt
Not long ago, I rolled out of bed at two o'clock in the morning, ambled over to the time machine, and typed in, "Boise State University versus University of Oklahoma, Fiesta Bowl." Immediately, I was transported back more than a decade to one of the greatest games ever played in college football. I watched the highlight footage, including the famous "hook and ladder" play that tied the game, and quarterback Jared Zabransky's even more famous Statue of Liberty two-point conversion that won it. I watched running back Ian Johnson put icing on the cake with his wedding proposal to his girlfriend. I read stories about the players and the coaches, about where they are now, and how the game affected their lives.
All this brought back my own memories of that New Year's night in 2007, when I drove to my friend Bob's house in Coeur d'Alene's Blue Creek District. Snow was packed two feet deep on the road as I slowly made my way up a steep and winding grade. Even as I drove oh, so carefully, my mind wandered to the magnitude of the game. It would be the biggest sporting event in the state's history. Seventy thousand people would be at the stadium, a dozen million more watching on national television coverage. All week, the pre-game hype had been headlining college football reports.
It wasn't for the national championship—it wasn't even number three versus number four—it was number seven versus number nine. But it was Boise State's first time in the Bowl Championship Series, and the pay-out would be thirteen million dollars. It also would be college football's first game in the state-of-the-art stadium at the University of Phoenix in Glendale, Arizona. Sports writers, photographers, broadcasters, and television cam crews were in house all week, doing show after show. The Fiesta Bowl would be the only game on television that night, to be played halfway between Boise and Norman, Oklahoma. But all that was just mustard on the hot dog. The main thing was it would be David versus Goliath—and America loves an underdog.