Tacos/Greenbelt Limeaid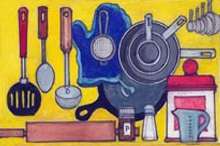 By Amy Story Larson
Know Your Tacos
INGREDIENTS
Asador—Meat is cooked on a griddle, similar to carne asada.
Cazo—Filled with items made in a traditional Mexican copper pot.
Cazuela—Stewed meat, cooked in clay cookware called a "cazuela."
Fish Tacos—Originating in Baja, CA., with fresh fried or grilled fish from the Pacific Ocean.
Shrimp Tacos—Tortillas filled with shrimp, topped with cabbage and a squeeze of lime. Can also add hot sauce.
Al pastor or adobada—The Lebanese immigrant-influenced meat here is cooked on a rotisserie.
Tacos al Carbon—Meat cooked over charcoal, creating a smoky flavor.
Vegetarian—Usually made of pinto beans, garbanzo beans, rice, and/or roasted chili slices, can add cilantro, lime, shredded carrots.
Breakfast—Made with scrambled eggs, chorizo, or potato, can be Americanized with bacon, ham, or cheese.
NOTE: The Boise area and beyond has a new wave of taco trucks and taco joints emerging. In my own home, Taco Tuesday is a regular thing, laughing over the much-needed head tilt to consume with ultimate grace. (Tricky, that.) We had taco night just this week, and I'm absolutely addicted. "Uno mas, por favor!" So this month, instead of a taco recipe, I'd love to plant some variations on taco ideas, and would love to hear of yours (with photos)! You can message me on Instagram at @amystorylarson
*Adapted from Fix.com
Boise Greenbelt Limeaid
INGREDIENTS AND PREPARATION
> 7 c. cold water with ¾ c. sugar, stir and set aside
> Add 1 Tbsp. of lime and/or lemon zest and juice from five limes (or lemons) to blender jar.
Add three of the cups of sugar water into blender jar.
> Add in ½ c. sweetened, condensed milk. Blend together until smooth. Add in remaining sugar
water, and a splash of good quality Mexican vanilla (optional), and serve over ice.
> Could garnish with mint leaves or a sprinkling of cinnamon.
NOTE: I didn't realize it until this year, but I have a thing for limeade. Cherry, pomegranate, plain,
it matters not to me, as long as it's lime-ish and icy and cold.
I also have a thing for the Boise River. It's been years since I've floated. The other day, a friend and I rode our bikes along the Greenbelt, finding a shady bench, and watched the late-afternoon floaters laze by. Dogs, small children, grandparents, teens, mid-aged folks, and coolers galore. Took me back to younger days, where Boise State students would catch a float between their last class and a night-time shift at work.
Maybe it's time to try out the inner tubes again.