Thunder Eggs/Barbecued Watermelon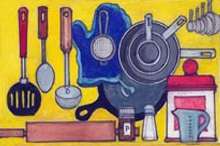 By Amy Story Larson
Thunder Egg Snackers
INGREDIENTS
Jalapeño poppers, as many as you want to make
1/2 pound (or more, depending on how many you are feeding) of ground sausage, breakfast sausage, chorizo, or Italian sausage
1 package (or more) of cream cheese, softened
1 lb. extra sharp cheddar cheese, grated
Garlic powder to taste
Onion powder to taste
Chili powder to taste
PREPARATION
> Wash and cut tops off jalapeños, core, remove seeds.
> Mix filling of cream cheese, cheese, and spices in a small bowl. Press mixture into hollows of peppers.
> Wrap peppers individually with an even measure of ground sausage until none of them shows through, in an egg shape, and then wrap two slices of uncooked bacon around each "egg."
> Place "eggs" on a baking sheet lined with foil and bake at 400 degrees Fahrenheit for 30-40 minutes.
NOTE: I have a vivid memory of going hunting for thunder eggs—volcanic rocks containing quartz—with my determined mother-in-law, Roma Whipple Hamrick. We all piled into Grandpa Jim's van, as it began to rain that early May. All of us, old and young, slogged through mud with our rock picks and shovels, looking for the fabled, magical geodes we'd heard so much about. That day, we were rained out. But it didn't stop our fever for long. Various quartz-lined geodes can be found in the upper valley of Lost River in Custer County, near the DeLamar Silver Mine in Owyhee County, and northwest of the town of Weiser in Washington County.
Way-Out Barbecued Watermelon
INGREDIENTS
Juice and zest of one lime
1/4 c. honey
1 Tbsp. extra virgin olive oil
1 watermelon, cut into 1" thick slices with rind removed
Mint leaves and sea salt for serving
PREPARATION
> Heat grill or pan to medium heat.
> Mix lime juice, zest, honey, and olive oil together in bowl.
> Rub lime juice mixture on slices, place them on grill or pan. Cook on both sides.
> Serve with mint and sea salt sprinkled on top.
NOTE: Different? Oh, heck yes! I've seen this recipe floating around the "interwebs" for a bit now, and thought I ought to give it a try. It takes some mental calisthenics to think my way around a sweet thing being treated as more of a savory dish, but the popularity of this one is gaining a growing body of proof that, hey, barbecued melon can be a thing.