Nice Rig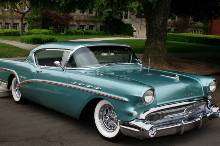 Growing Up in Kellogg, Part Three
By John Vivian
Excerpts from recollections of the author's youth in Kellogg, which he assembled for a group of friends and former classmates.
The Crash Club
In their wisdom or utter lack thereof, Idaho legislators allowed kids to drive at age fourteen back then. Yikes, a driver's license was available at twelve if you lived on a farm. No formal instruction was required. Dad taught me kinda, sorta. In an alley behind his shop on Cameron Avenue he spent ten minutes showing me the essentials of changing gears in an old and already severely dented 1949 Chevy 3100 pickup. Then I was on my own, so long as I didn't venture beyond the alley. I practiced for days. To this day, I have no idea how the clutch survived. On my fourteenth birthday, I was allowed to drive Dad back and forth the three blocks between home and his shop.
Today I'm still a firm believer in teaching yourself mechanical skills, whether it be driving or software or anything else. Driver Ed? We didn't have it in school in Kellogg in 1958. By the time Driver Ed was offered as a summer class at the high school in 1963, I shook my head: Why? I drove that '49 pickup through high school with nary a mishap and could clutch as expertly and cleverly as anyone, just from my teach-yourself lessons in the alley behind Dad's shop.
This isn't to say I wasn't a member of John Gordon's Crash Club. Indeed, I had my share of scrapes, literally, in the family car. Each scrape gave me points in a club that Johnny created informally in 1961 after his dad let him drive the Gordon family's new Tempest wagon to a weekend church meeting at Audubon Methodist in Spokane. That night Mr. Gordon was not happy to drive to Spokane and fetch the wreckage and also Johnny. School was abuzz Monday morning. Everybody wanted to know the accident details. No, nobody was hurt. Yes, Johnny was at the receiving end of a stern, stern lecture. Also, as I recall, there were some restrictions on his driving even though, again from my hazy memory, the accident was not Johnny's fault. As perverse as it may seem, the accident propelled him into a kind of momentary stardom. He had been through what none of us had been. We proclaimed him the leader of the Crash Club. Actually, though, Johnny was not the first member of our club. I was. But not knowing that I too could be a star, I kept my qualification to be the charter member in the closet.