Tuba Christmas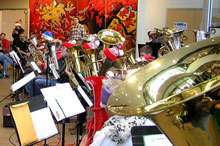 Where the Big Horns Draw Crowds
By Ray James
Photos Courtesy of Ray James
In Nampa, we used to hold Tuba Christmas at the Karcher Mall, where people would listen to the live concert as they wandered around shopping. When we moved the venue to the then-new Nampa Public Library in 2015, we weren't sure what kind of audience we'd have or the reception they'd give us. But when we arrived at the library that first year, so many people were waiting that we had to move them back to make enough room to seat our performers. It's been a packed house there ever since. The library has an extensive lobby where our musicians set up. Two floors rise above it, with small glass walls over which spectators can see the performers. I think the third floor is best, because the tuba bells point upward, and the sound rises.
Perhaps I should explain Tuba Christmas. Now held annually in more than two hundred cities in the US and around the world, it was inspired by William Bell, generally regarded as the first tuba virtuoso. Harvey Phillips has likewise had an impressive career. Referred to as "the Paganini of the Tuba" or simply as, "Mr. Tuba," he was inspired to create Tuba Christmas as an annual event to honor his former teacher, William Bell, and to further the legacy of all artists/teachers of the tuba family of instruments.
Tuba Christmas performances mostly feature traditional Christmas music arranged by American composer Alec Wilder (who died on Christmas Eve in 1980) for the first Tuba Christmas, held December 22, 1974 in New York City's Rockefeller Center Ice Rink. Every Christmas season, musicians of all ages still gather there, where the warm and rich organ-like sound of the mass tuba-euphonium ensemble choir continues to win the ears and hearts of audiences.