Tuscan Chicken/Cheese Pickle Bites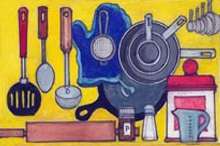 By Amy Story
Amorette's Tuscan Chicken Delight
INGREDIENTS
Package of chicken breast tenders
Package of baby spinach or regular
spinach leaves, julienned
1 cup or more of heavy whipping cream
1 cup chicken broth or broth made from bouillon
1 cup sun dried tomatoes, cut into
smaller pieces
6 cloves garlic or the minced equivalent
1 cup or more mozzarella cheese
1/2 brick of cream cheese
1 cup grated Parmesan cheese
1 Tbsp. Italian seasoning
1/2 tsp. onion powder
1/2 tsp. powdered garlic
1/2 tsp. pepper
1/3 tsp. cayenne pepper
1 Tbsp. parsley flakes
Pinch of brown sugar
Sprinkling of cardamom
Sprinkling of fennel seed
Sprinkling of celery seed
Salt and pepper to taste
PREPARATION
> Layer julienned spinach (use the whole bag, which reduces greatly when it cooks down), sundried tomatoes, chicken tenders, mozzarella cheese, and a sprinkling of Parmesan in a large crockpot, as one would a lasagna. I had three layers of this at completion.
> In a saucepan, pour broth and combine all seasonings to it, including minced garlic. Simmer until reduced.
> Cut cream cheese into small bits, add to reduction. Once thickened, begin to add heavy whipping cream as needed until sauce is a medium thickness gravy texture.
> Pour sauce over entire combination in crockpot. Top with more mozzarella and Parmesan.
> Leave crockpot on high for a couple of hours or until chicken is cooked and tender.
Note: I've often thought that "Amy" is too common a name for an artist-type like me, who greatly enjoys individuality. For most my life, I've been looking for a substitute that clicked. About three months ago, I saw a photo of a two-year-old's cake that read, "Happy Birthday, Amorette," and couldn't stop thinking of the name. Lately, when those close to me want to make me smile, they call me Amorette. So when a friend sent me a simple recipe for Tuscan chicken, the Amorette rebel dwelling within immediately said aloud, "Oh, I'd triple the garlic," and, "What could be done to increase the richness and creamy texture beyond heavy whipping cream? Sour cream, maybe, or even cream cheese?"
While basic flavors like Italian seasoning and onion powder were in the recipe, I considered two-thirds of the spice cabinet and fell upon fennel, something an Italian friend of mine had once made an incredible beverage with. It worked well with the cardamom, brightening the broth and eventual sauce. The touch of brown sugar at the end enhanced all the notes.
My first taste took me back many years to the old Macaroni Grille in Boise, where each time I went I ordered the Chicken Penne Rustica. Now that I think of it, this would be just absolutely marvelous over a good al dente penne pasta. Two adults devoured the entire contents of the crockpot within twenty-four hours. I was happy to have this haphazardly concocted dish turn out well, and am anxious to make it again.
Crunchy Cheese Pickle Bites
INGREDIENTS
Large square slices of your choice of cheese
Dill or sweet pickles, cut lengthwise into quarters
Dipping sauce such as ranch dressing or Roquefort
PREPARATION
> Place cheese in a greased nonstick skillet and heat on medium until crisp and bubbling.
> Lift edges with a spatula, place pickle slice in center, and wrap cheese around it like a blanket.
> Allow to cool for a few minutes. Serve warm and dip the pickle bites into your sauce of choice.
Note: This is a simple idea that I wish I'd had both as a youngster cruising for snacks after a school day and as a mom with multiple munching littles. Ours is a pickle family. My mother made bread and butter pickles each fall and we sisters would go through them like candy. I've rarely been able to resist a pickle-and-cheese combo of any kind: the salty, sweet, and spicy added to the savory bitter of certain cheeses was our pack's comfort food extraordinaire.
I can't wait to make this one for grandkids Trevor, Dejah, and Tel, to pass on the ferment-and-fromage addiction to the next generation.