Vanilla Pudding/Mac 'n Cheese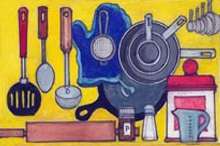 By Amy Larson
Good Morning Vanilla Breakfast Pudding
INGREDIENTS
2 c. unsweetened coconut or almond milk
3 Tbsp. honey (or more) to sweeten to taste
1/2 c. heavy whipping cream
1/2 c. regular or white chia seeds
2 Tbsp. good quality vanilla
Optional: almond extract to taste
Pinch of Himalayan salt
Pinch of ground nutmeg and/or cinnamon
PREPARATION
> Combine milk, honey or other sweetener, and vanilla in a blender until well mixed, put mixture in a medium-sized bowl.
> Add in the heavy whipping cream, chia seeds, and salt with other preferred spices, whisk to combine. Cover bowl and refrigerate for a minimum of four hours.
> Give another brief stir before serving.
Pudding can be topped with fruit, granola, nuts, chocolate chips, etc. Variation: Add 2 tsp. cocoa powder to the ingredients in the blender at the beginning to create a chocolate version.
NOTE: Traditionally used in beverages, the tiny chia seeds have been used in Mexico and Guatemala for centuries. Once submerged in liquids, the seeds create a creamy texture. This has been a healthy, filling, go-to breakfast or snack lately at our household. It's so satisfying that a serving size of only about a cup or less serving will do (although more if you happen to be extra hungry).
Crockpot Mac 'n Cheese
INGREDIENTS
Cooking spray
10 oz. cooked macaroni noodles (approx. one 16-oz. box)
12 oz. evaporated milk
1/3 c. melted butter
1 tsp. salt
2 eggs, beaten
Dash of pepper
Paprika to taste
Optional: powdered or minced garlic, onion salt, if desired
Two 8 oz. blocks of sharp or extra sharp cheddar cheese, grated
PREPARATION
> Coat crockpot with cooking spray.
> After cooking macaroni noodles, let them cool, then mix with milk, butter, salt, eggs, seasonings, and cheese, saving some cheese to sprinkle over the top.
> Sprinkle leftover cheese over mixture, as well as a sprinkle of paprika. (You could also top with crushed potato chips, like Great Aunt Betty used to do for her "Wednesday Night Special" casserole.)
> Cover and cook on low for about three-and-a-quarter hours.
NOTE: Macaroni and cheese appeared in Elizabeth Raffald's book, The Experienced English Housekeeper (1770), using Mornay sauce (bechamel with cheddar cheese). The sauce, combined with Parmesan and the noodles, was baked until it was a bubbly, golden brown. My son Taylor and his wife Jessica love to create variations of this dish, often using crisp bacon pieces, pork brisket, or other delicious protein varieties as topping or blended in.