Veggie Side/Garlic Cheese Biscuits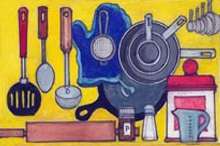 By Amy Story Larson
Biker Chuck's Yummy Veggie Side
INGREDIENTS
One bundle tender baby asparagus, cut to one-inch lengths
4-5 strips bacon, crumbled
One small onion, diced
Honey to taste
Red pepper flakes to taste
Optional: a sprinkling of feta cheese or Parmesan
PREPARATION
> Sauté asparagus in a well-buttered pan for 2-3 minutes, then add diced onions and continue cooking.
> Once asparagus and onions are tender and slightly browned, add in crumbled bacon and stir. Then add a teaspoon or more of honey, according to taste, should be just slightly sweet.
> Sprinkle in a bit of crushed pepper flakes to increase heat.
This combination of savory, sweet, and "umami" (considered a fifth basic taste associated with high-protein foods) works well on the palate, making good friends with each other.
Note: We met "Biker Chuck" at a coffee shop one day. The man was a tremendous foodie, liked binging on Netflix series, loved the people he went on long motorcycle rides with, and was willing to share his secrets. He told us about this little combo and we couldn't wait to try it. I give it two thumbs and forks way up.
Good Year Garlic Cheese Biscuits
INGREDIENTS
2 c. Bisquick™
2/3 c. milk
1 c. shredded extra sharp cheddar cheese
PREPARATION
> Mix Bisquick™, milk, and cheese until dough forms.
> Beat well for up to thirty seconds.
> Drop spoonfuls onto an ungreased baking sheet.
> Bake ten minutes at 450 degrees Fahrenheit.
> Brush with a combination of melted butter and garlic powder.
Note: These are yum, and super-similar to biscuits served by a certain restaurant famed for red crustaceans.