Way Fast on Snow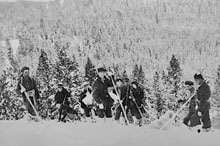 When Skiing Was Shoeing
Story and Photos by Ray Brooks
In the fall of 1962, my nineteen-year-old brother returned from a deer hunt with a pair of eight-foot-long, weathered and warped, handmade wooden skis he had discovered in the mountains. Of course, growing up near the ski town of Sun Valley, I was aware the sport went back a ways but one look at these artifacts gave me a new appreciation for the longevity of skiing in the Wood River Valley. The following summer, my brother and I hiked back to the same roadless area where he had found them, and we located a six-foot-long hand-carved wooden pole, which he instantly identified as the push-pole that went with those skis. The outfit had been near a miner's cabin that dated to the early 1900s. A few years later, my brother sold the skis and pole to a new ski lodge on the Warm Springs side of Sun Valley's Bald Mountain, where they were displayed above an enormous rock fireplace. For years, I searched for another pair of handmade skis like that for myself but never found them. In 1978, I purchased a much better-preserved pair of early skis from a friend for entirely too much money, although I still cherish them today. Rather than homemade, they're a product of the Greg Manufacturing Company of St. Paul, Minnesota, probably from the late 1800s.
Eventually, my long-held fascination with the history of Idaho skiing led me to research the topic. The first mention of Idaho skiing I could find was in a very short article in the Silver City Avalanche newspaper on December 26, 1865. Interestingly, the term "snowshoeing" was used for skiing in those days. The webbed devices we now know as snowshoes were called "Indian snowshoes" and were rarely mentioned in Idaho newspapers of the 1800s. In deference to the terminology of those days, I'll use "snowshoeing" instead of "skiing" when describing those early reports.
"Owyhee boys challenge the rest of the territory to a snowshoe match, any distance, for one thousand dollars to two thousand dollars," the Avalanche article said. In 2021 dollars, that would be about $16,500 to $33,000. "We understand that parties have made from the top of Florida Mountain to Ruby in twenty-eight seconds."
Miners from California brought the sport of snowshoeing to Silver City and other parts of Idaho in the early 1860s, and it became quite popular. Florida Mountain rises about fourteen hundred vertical feet above Silver City. The now-gone Ruby (or Ruby City) was about a mile below Silver City. The distance from the top of Florida Mountain to Ruby was about 1.3 miles. For the newspaper story to be true, the snowshoers would have raced downhill at about 164 miles per hour. Given that the current world snow ski speed record is 158 miles per hour, perhaps someone was exaggerating a bit.