White Bean Chicken Chili/Cupcake Glitter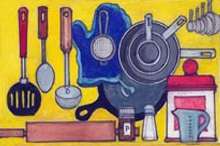 By Amy Story Larson
Kat Casey is a wife, mother of two young boys, and a full-time paralegal worker who enjoys the outdoors, animals, and most of all, her family. She comes from a long line of talented cooks. Her mother owned a cake and candy business for eighteen years, and her father is Italian. "Need I say more?" she jokes, adding that her cousin is also a vegan chef.
"Family gatherings are fun in the kitchen. I was an active child, and I wish I'd spent more time in the kitchen with family," Kat says. "My grandmother could take leftovers and make an entirely new dish that would blow your mind. My parents create dishes that should be in a restaurant. I wish I had those talents, but I don't, at least not yet. That does not mean that it keeps me out of the kitchen. I recently found passion in cooking. It is relaxing for me to come home after a long day, chop, sauté, grill, etc. The sounds in the kitchen alone are soothing. In the end, I see the joy in my family's eyes when we sit down to eat. My kids love to help me, too. Cooking is something that allows me to constantly grow, learn, and involve my family."
Kat's best advice? "Just remember less is more. You can always add flavor, but you can't take it away."
Kat's Award-Winning White Bean Chicken Chili
INGREDIENTS
2 Tbsp. oil
1 large onion,chopped
4 large garlic cloves, chopped
1 Tbsp.ground cumin
1 tsp. dried oregano
1/2 tsp. anise seed
1/2 tsp. dried crushed red pepper
1 lb. boneless skinless chicken (dark cuts are more tender), cut into bite-sized pieces
3 15-oz. cans white kidney beans
1 c. canned chicken broth
1 7-oz. can diced green chilies
1/2 c. heavy whipping cream
PREPARATION
> Heat oil in big pot over medium heat. Add onion, garlic, cumin, oregano, anise seed and dried red pepper.
> Cook about five minutes. Season chicken with salt and pepper.
> Add beans, broth, chilies, cream and reserved bean liquid to chicken.
>Simmer until chicken is cooked through, about 10 minutes. Simmer longer and add more salt and pepper if you want.
Edible Cupcake Glitter
INGREDIENTS
white granulated sugar or raw sugar
food coloring
small plastic bags
PREPARATION
> Place 1/2 c. sugar into a small plastic bag. Increase the volume of sugar depending on your needs.
> Add food coloring to the plastic bag. Seal the bag. Shake it, toss it back and forth between two people, squeeze and work the plastic until the desired coloring occurs. Add more food coloring as required.
NOTE: Your edible glitter can be any color. All you need is sugar, food coloring, and an oven. For a bit more texture, use raw sugar. This sugar can be used in so many ways: for example, on cookies, cakes, or sprinkled over breads and pie crusts.
*adapted from twosisterscrafting.com