Wild Times in the Old Canyonlands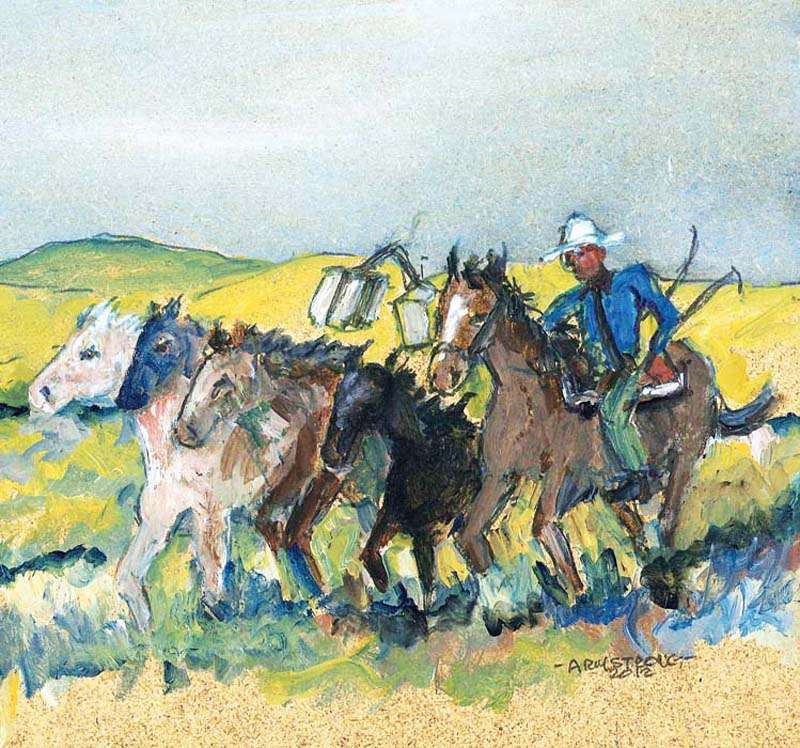 Dad's Orders Were to Bring Him In Dead or Alive, Preferably Dead
By Terry Armstrong with Cheryl Reed-Dudley
Illustrations by Terry Armstrong
My dad, Ray Armstrong, was a young forest guard at Pole Creek Ranger Station in the Canyonlands of southwestern Idaho during the late 1920s. He didn't remember ever attending school, but became a successful cattle broker and in his later years served as mayor of Bliss. Like many cattlemen and cowboys of that day, Dad was a gifted storyteller. In 1976, I recorded his tales in a notebook—tales that chronicle escapades typical of forest service activities in early times.
Ray Armstrong was nineteen years old in 1927. His father, my grandfather, raised horses along Cedar Draw on a rocky strip of land near the Berger community south of Filer. Word was that Dad left home at an early age. He herded sheep and served as a camp tender, learned cowboy work, and maintained himself doing odd jobs around Buhl and Twin Falls. On a chance happening, he met "Supervisor" McQueen, who was in charge of both Pole Creek and Mahoney Ranger Districts on the Humboldt National Forest just across the Nevada/Idaho state line. Dad was familiar with the country, having worked at the Diamond A Ranch. He knew Jarbidge, Murphy Hot Springs (known then as Kittie's Hot Hole) and the Three Creek country.
Supervisor McQueen needed young, tough men as guards for both ranger districts. Following a rigorous examination that included both written and practical activities, Dad was hired for the Pole Creek position along with young Tommy Wells at Mahoney. It was never clear how Dad learned to read, but during the test session he managed to follow the directions for assembling a demonstration crank wall telephone. He was big, tough, and could throw a perfect diamond hitch, meeting all qualifications for the Pole Creek work. Both Wells and my dad were to furnish their own pack outfits, which included fifteen horses and pack equipment.