Wilson Creek Worship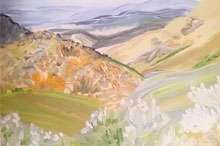 The Nurture of Nature
By Amy Larson
I'd accidentally explored the Wilson Creek area three years ago, at the hands of a GPS-less driver who'd misunderstood directions to Reynolds Creek Cemetery (see IDAHO magazine, February 2012, "Good and Lost"). Although the driver strenuously denies it, we were essentially lost amongst the area's mountains and valleys for a couple of hours. Having been invited by my friend, Terri, to drive out that way once more, I determined that this time I would focus on finding a little peace instead of so much aimless wandering.
We sped past Walter's Ferry in Terri's sports car, with her two matching white-and-black dogs in the backseat, their tongues lolling. After turning off Highway 45 onto Highway 78, they yipped and whined in anticipation, having taken the trip before. Wilson Creek Road succumbed to dusty gravel, and I was impressed by the pains Terri took to get the car through washboards and potholes in her determined escape from city life. Minutes later, I understood: an expansive, panoramic view appeared abruptly at the crest of a hill. This had been here all along, twenty-five minutes from my backyard. I've lived in the area for decades, yet hadn't known about it.
Crawling up roads not designed with sports cars in mind, Terri pulled over and the dogs scrambled out, ran around in circles, and then returned to where we'd set up. Before unpacking her laptop to do a little work, Terri pointed to the faded valley below, where each plane became more colorful and vibrant the nearer it got.
"You should paint that," she suggested, adding, "if you want to," since I'd mentioned on the ride up that I detested being told what to do.
The dogs alternately romped or sunned themselves in the dust. Against the soundtrack of Terri's clicking keyboard, I got out my pencils and paints, and applied to paper a layer here, another layer there. Capturing the high desert beauty seemed impossible, but I was soothed by the challenge of interpreting faraway trees, roads, and farms.