Winter Visitors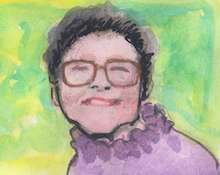 They're Gross but Entertaining
By Marylyn Cork
It's daylight and here they come, racing pell-mell down the mountainside, tumbling over themselves in their haste. Across the county road, up to the top rail of the yard's fence. These critters want their breakfast, and since I won't make it easy for them any longer, they have to work harder to provide it for themselves than in previous winters.
From the top of the fence, some fly into the tall mountain ash in front of the house, gulping scarlet berries, and the feast begins. Those less daring station themselves underneath, awaiting the berries knocked down by the exertion of those in the tree. They all eat until they're sated, for they are gluttons.
Occasionally, some will still scout around the house to the backyard, looking to see if I have rehung the feeders filled with black oil sunflower seeds that I used to hang from the floor of my high deck. They are finding none there this winter. A few have taken to flying to the deck railing, from which they glare at me through the window. Am I not providing the grub this year?