Wooden Boats Beckon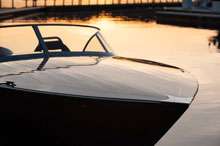 The Allure of Craftsmanship
By Jana Kemp
Furniture, stationery, books, and boats feed my soul, for they hold in common the fibers of a tree.
Why am I drawn to trees and their products? All I know is that when I was in a Boise consignment shop and first saw the pattern of sixteen book leaves on the wooden table that's now in my living room, it called to me, "Take me home." Maybe my decades of sending and receiving letters is what hooked me on paper, which is most often born of wood. Maybe the touch of book pages on my fingertips imprinted a need in me to feel the foundational fibers of wood.
As for boats, I suppose my passion for rowing a skull drew me to them. It could also partly be a family influence, from my uncle's stories of World War II training in wooden boats at Farragut Naval Training Station (see "Boot Camp by the Lake," IDAHO magazine, March 2014). Could junior high wood shop classes be responsible for spawning my love of wood? Nope, that wasn't it. But maybe, just maybe, I was conceived under a tree, and my soul remembers the safety, comfort, and joy of that original moment.
In any case, a clarion call awakened me during the 2013 "Man Show" in Spokane, when I encountered a wooden boat made in northern Idaho. As I walked along talking with the person who had invited me to the show, I stopped in my tracks and interrupted the conversation with, "I'm sorry, I can't hear you. I am completely distracted by this boat."