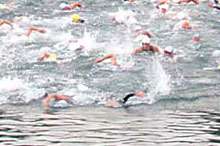 August 10th, 2003, dawned clear and beautiful, promising to be yet another of the many memorable days of that summer when the mercury inched into the nineties or beyond. From my supreme vantage point atop Sandpoint's picturesque Long Bridge, I could feel the restless excitement of the swimmers on the beach below as we all awaited the beginning of the ninth annual Long Bridge Swim. Soon came the deep bellow of the air horn and over three hundred eager bodies surged into the chilly, but pristine, waters of Lake Pend Oreille. Not just another race, the event has become the Northwest's premier open water swimming event, attracting participants from all over the western United States.
What makes this 1.7 mile swim so special? Several things. First and foremost is the attraction of Sandpoint itself. Long famous for its lakes, mountains and rivers, this little town of seven thousand also has established itself in the fields of music, art, and culture. But what really makes the Long Bridge Swim unique is the Long Bridge itself—actually two bridges side by side, one for traffic and one a pedestrian/bike path—which offers unsurpassed spectator viewing. After all, how many open water swimming events are there where you can stroll along with the swimmers every step of the way? And what a stroll it is.
Bridges have been a part of Sandpoint's history for over 120 years, since the Northern Pacific Railroad built the first railroad bridge in 1882, connecting the area to the East and establishing Sandpoint as a bustling mining and timber town. And while mining and timber no longer claim as big a piece of the economic pie, there are still plenty of bridges. In fact, no matter from which direction you approach Sandpoint, you have to cross a bridge.
Anyone who enters Sandpoint from the south on Highway 95 will cross Lake Pend Oreille on the Long Bridge. The view alone has convinced many individuals to make this beautiful North Idaho community their home. And no wonder, with the lake's clean waters beneath you and the jagged Cabinet Mountains rising against the sky to the east, it's a view not quickly forgotten. To the north and west, rising sharply behind the town, is the Selkirk Mountain range with backcountry wilderness stretching some sixty miles to the Canadian border. Continue reading →