Homemade Hash/Biscuits and Gravy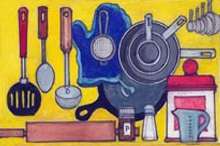 By Amy Story Larson
Homemade Corned Beef Hash
INGREDIENTS
4 Tbsp. butter divided in two
1 yellow onion
2-1/2 c. diced cooked corned beef
2 lbs. boiled potatoes
2 Tbsp. minced chives
1 Tbsp. minced fresh parsley
1 Tbsp. minced garlic (optional)
salt and fresh cracked black pepper to taste
4 eggs (optional)
PREPARATION
> Dice onions, potatoes, and corned beef and set aside.
> Preheat a large pan over medium heat and add 2 Tbsp. butter to melt. Saute diced onion in butter until browned.
> Add diced corned beef and cook it together until corned beef is heated through.
> Add diced potatoes and remaining 2 Tbsp. of butter. Season with salt and pepper and once butter is melted, stir everything together. Let saute for a few minutes before moving around in pan again.
> Cook for about 15 minutes without disturbing so it gets crispy on the bottom before you stir.
> Add in some chives and parsley and serve.
To add eggs:
>Lower the heat to medium low.
> Make four divots into cooked hash, crack egg into each divot.
> Season eggs with salt and pepper, cover pan with lid, cook until eggs are as desired.
NOTE: I'm still on my hygge (the art of cozy) kick that I mentioned last month, and which I expect will last for a good while. Corned beef hash is my guilty pleasure in this no-carb, low-carb time. Store-bought or restaurant-made, with a spiral of ketchup on top, crispy with steam tendrils on a brisk morning, sunny side eggs as partners in crime, with a nice cup of tea as I contemplate life…few things better. Thought I'd attempt to make it myself at my homey art loft one morning, in an effort to bring excitement and joy to the farewell of summer (which is always hard for me to part with, because I never seem to get enough). If homemade corned beef hash can be the signature of autumn for me, then autumn is something I can do.
Biscuits and Gravy Casserole
INGREDIENTS
10 oz. tube of buttermilk biscuit dough
6 eggs
1 package powdered country gravy pouch (plus ingredients per package to make gravy)
1 lb. sausage, any flavor
1 c. extra sharp cheddar cheese, shredded
1/2 c. milk or half-and-half
salt and pepper to taste
PREPARATION
> Preheat oven to 350. Coat 13×9" pan with cooking spray (or smear with yummy butter). Cut biscuit dough into 1″ pieces, line onto bottom of pan.
> Brown sausage, drain.
> Scatter sausage over biscuit pieces, top with cheese.
> Whisk eggs and milk with pinch of salt and pepper, pour over the other ingredients.
> Make gravy according to instructions, and pour over the pan. Bake 30-45 minutes, depending on your oven's quirks.
> Cut into generous portions, and serve to hungry residents and/or guests.
NOTE: Can you sense the cozy "mmm" in this one?