A Blemished Beauty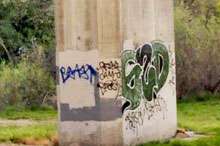 The Divided Landscape of Rock Creek Canyon
Story and Photos by Shelley McEuen
Rock Creek Canyon isn't particularly grand. It is easy to overlook. People do it every day. It isn't listed in the Southern Idaho Visitor's Guide as one of the "sights-not-to-be-missed," nor is it overloaded with curious visitors.
The canyon isn't ablaze with fiery red rock, and crystalline waterfalls aren't part of its allure. It isn't associated with the romance of Ernest Hemingway or with fly fishing. Rock Creek Canyon is mostly quiet, revealing its secrets only to those willing to seek its secluded, subtle wonders. I know, because I've been exploring the canyon for more than ten years as a walker and a runner, and I feel that with each visit to this wild space my claim to it has gradually grown into a deep and inexplicable connection.
Rock Creek is an urban canyon with waters originating south of Twin Falls. Skirting multiple campgrounds in the Cassia Division of the Sawtooth National Forest (locally known as the South Hills), the creek makes a gradual three-thousand-foot drop to the agricultural landscape southeast of Twin, eventually cutting a rugged canyon swath northwest through the city to empty its roughly sixty-mile length into the Snake River. The canyon lies just a mile-and-a-half from my home, although it took years for us to be properly introduced.
The canyon and I first met on a sunny October morning, the kind when the light makes everything gleam like chrome. My running partner had suggested a new route for our half-marathon training, and I was eager to encounter new terrain and scenery. Heading south on a Twin Falls residential street, we cut across Shoshone Street past the grill, which sent the smell of Saturday pancakes, sausage, and coffee into the air. Crossing the railroad tracks near Old Towne Bridge, we turned left on Maxwell Avenue. Through a short gravel parking lot, an unmarked paved trail began. Following this route, we soon began our descent into the canyon where the trail makes a short hairpin turn at the bottom to open a bit wider. A cable vehicle barrier issued an unassuming welcome. I found myself—quite suddenly and decidedly— elsewhere. I was moving through a wide canyon floor, a vibrant, gurgling creek running alongside the paved trail. A canopy of Russian olive, elm, ash, and cottonwood trees framed this lush scene, and I could see and hear birds rather than road noise and traffic. There was very little evidence of the city less than a half-mile above us on the canyon rim. Immediately, I was entranced.