A Horsehair Potter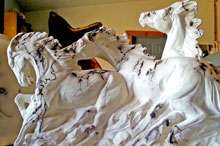 Working One Strand at a Time
Story and Photos by Lorie Palmer
When I first heard the term "horsehair pottery," I had a vision in my head of ceramic pieces wrapped in long strands of chestnut-colored horsehair, a bit like swathing pieces of thin rawhide around a vase. But the actual process turned out to be nothing like I expected, and the result like nothing I had ever seen.
I had heard about Jean Anglen of Cottonwood from a friend who said she made "beautiful horsehair pottery pieces." I was skeptical. The idea of hair-wrapped ceramics didn't really float my boat. But as a reporter for our local newspaper, I figured it didn't really matter what I thought. Visiting with Jean might provide a nice feature story at some point, so I called and traveled the seventeen miles to the home she shares with husband Eldon.
When I asked how she got started making ceramics, her answer was humorous and direct. "I was a bored housewife who needed a hobby." After several careers, which included thirty-five years in manufacturing, running a hostel, and working in a pizza parlor and tavern, Jean purchased ceramic equipment from a man in Newport, Oregon, who was going out of business.
"I fell in love with it," she told me. "So began a life of trial and error and continuous creation."