A Long Hiatus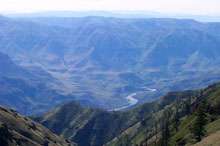 And a Lot of Idaho Talk
Story and Photos by Max Jenkins
When we left Idaho in June 1967, the sign at the outskirts of Boise read: "Population, 36,800 something." Meridian's population was about twenty-two hundred and mostly farmland. The population of the state was approximately seven hundred thousand. Worst of all, this state I loved did not provide the business opportunities that were available back East.
I graduated from Idaho State College (now Idaho State University) in pharmacy and my wife, Jean, graduated from ISC in home economics. After one year as a pharmacist in Reno and two years in the U.S. Army, I entered law school at the University of Idaho, financing it as a pharmacist. When I graduated in 1967, we received more than a dozen worthy job offers from drugstore chains . . . all east of the Mississippi River, and not one competitive offer from Idaho.
We accepted a position headquartered in Chicago and moved to a western suburb with our two kids. Immediately, we learned that our neighbors and friends not only didn't know anything about Idaho, they couldn't locate it on a map.
"Oh, you're from corn country," people often said.
"No," I would answer, "we're not from Iowa, we're from Idaho in the Northwest."