Chicken Chili/Crockpot Brownies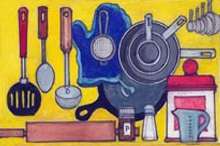 By Amy Story Larson
Highway 55 Chicken Chili
INGREDIENTS
1 15-oz. can black beans
1 15.25-oz. can sweet corn, undrained
1 10-oz. can Rotel™ tomatoes, medium heat, undrained
1 package ranch dressing mix
1 tsp. cumin (optional)
1 Tbsp. chili powder
1 tsp. onion powder
1 tsp. minced garlic
1 8-oz package full-fat cream cheese
2 chicken breasts
PREPARATION
> Drain, then rinse beans. Put chicken breasts in crock pot, and pour undrained can of sweet corn over chicken, along with can of Rotel™ and undrained black beans, all over the chicken.
> Finish by sprinkling seasonings, minced garlic, and ranch mix into crock pot, and then stir all together. After stirring, place cream cheese block on top, and cover with lid.
> Cook on low for 6-8 hours, as you anticipate deliciousness in a bowl!
> Once cooking time is completed, remove chicken, shred, and add back into the chili.
> Chili can be garnished with lime, cilantro, sour cream, hot sauce, crumbled bacon, etc.
NOTE: Cold Idaho winters call for warm, hearty dinners that don't take forever to make. This month seems appropriate for usage of the crock pot, because nothing says love like a meal that's yummy that you didn't have to slave much over. Our family has loved visiting McCall during January and February, staying at a favorite lodge where we load up the crock pot. We plug the device into the kitchenette area, enjoying good food later in the day after perhaps touring the McCall Winter Carnival, reveling in a little tubing on a fast-sledding hill, and having a nice long soak at a local hot springs.
*adapted from yummyhealthyeasy.com
Lake Fork Fudgie Crockpot Brownies
INGREDIENTS
20-oz. pkg. brownie mix prepared
1 tsp. vanilla extract
1 tsp. almond extract
½ tsp. cinnamon (optional)
1 c. chocolate syrup
1 c. hot water
Optional Toppings: vanilla ice cream, thawed frozen whipped topping, maraschino cherries, sprinkles, crushed walnuts, or slivered almonds.
PREPARATION
> Spray crock pot with cooking spray.
> Mix batter with ingredients except chocolate syrup and water, and pour in crock pot, spreading evenly.
> In a bowl, combine chocolate syrup and water and pour over batter.
> Cover and cook on high for 2 1/2 – 3 hours, until the edges are just set.
> Remove lid and let stand for 30 minutes until middle part has finished cooking.
> Serve with your favorite topping.
NOTE: Approximately an hour and 45 minutes from Boise is Valley County's unincorporated community of Lake Fork, 5.5 miles south of McCall. Small and perhaps easily missed, the location's charming coffee and gift shop and a few other items of interest provide the answer to, "Are we there yet?" Lake Fork means yes, we are almost there.
*adapted from recipesthatcrock.com