Antipasto Salad/White Pie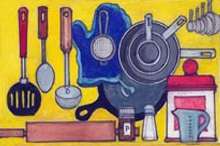 By Amy Story Larson
Our guest recipes this month come from Amy Vecchione, the mom of an incredible kid named Kirin, and a professor at Boise State University. She manages the MakerLab at Albertsons Library and recently led an initiative to use 3-D printers to build personal, protective equipment for health care workers. The initiative grew beyond serving the healthcare industry, and she began leading groups to create face shields for other essential workers. Amy used the power of the network that formed to help spur two larger collectives that have formed to make more masks for health care workers. At home, she bakes with Kirin, who likes to help in the kitchen but, most importantly, serves as taste tester. Amy is an Italian American, from New Jersey, and is trying to recreate her family recipes while at home during quarantine. You can reach her at [email protected]
Here are Amy's notes on her recipes:
When I was growing up, my grandfather, Frank Vecchione, would regularly forage to supplement the food needs of our multi-generational household. He would bring home mushrooms, chives, burdock, clams, mussels, and garlic. In New Jersey, some of these ingredients are pronounced differently. Typically, Jersey Italian speakers drop the last vowel on many, but not all, words. We call ricotta "pot cheese" but when we use the word "ricotta" it's pronounced, "rigot." Since our family can't travel back to visit New Jersey this summer, I've been working to recreate some foods that I miss. These recipes reflect this heritage, but with a present day flourish.
Antipasto Salad
ANTIPASTO INGREDIENTS
Hard provolone
Salami
Soppressata
Pepperoncini
GREEN SALAD INGREDIENTS
3 c. of your favorite salad green
1 c. of a mix of frisee and radicchio
1/4 c. thinly sliced red onion
1/2 c. high quality pitted black olives
1/3 c. cherry tomatoes
MUSHROOM INGREDIENTS
2 c. small cremini mushrooms
4 T. extra virgin olive oil
Sea salt
¼ c. fresh parsley
DRESSING INGREDIENTS
Red wine vinegar
Extra virgin olive oil
Parsley
PREPARATION
> Trim the cremini mushrooms. Heat a skillet with olive oil, salt, and parsley. Add the whole mushrooms. Set the skillet to medium heat. Turn or shake the mushrooms in the pan every four minutes until all sides have browned—about 16 minutes. Let cool to room temperature.
> Select high-quality deli meat for the antipasto. Slice the hard provolone, salami, pepperoncini, and soppressata into rounds. Set aside.
> For the salad, place the washed mixed greens into a large bowl. Slice the red onion into thin rounds. Arrange in whole rounds on top of the greens. Add the washed cherry tomatoes, black olives, and cooled roasted mushrooms.
> Mix the dressing by combining 1/3 c. red wine vinegar with ½ c. olive oil, ¼ c. chopped fresh parsley (1 T. dried). Shake vigorously. Dress the salad.
> Place the antipasto on top of the green salad and serve.
Note: Serves 4
Antipasto is served before the meal and is often a rich-tasting platter of meats, cheeses, and marinated vegetables. This version combines antipasto with a traditional green salad.
Grandpa's White Pie
DOUGH INGREDIENTS
1 1/4 tsp. regular yeast (not rapid rise)
1 T. white sugar
3/4 c. lukewarm water
2 c. freshly milled bread flour
2 tsp. sea salt
1 tsp. olive oil
TOPPINGS
4 T. high-quality olive oil
1-2 c. whole milk ricotta
1 c. shredded mozzarella
Garlic greens
Everything Bagel™ seasoning
Additional topping suggestions: fresh clams or mussels (in shell, scrubbed), foraged delectable mushrooms such as morels.
DOUGH PREPARATION
> Mix together in a glass bowl 1 T. sugar, 1 ¼ tsp. yeast, and ¾ c. lukewarm water. Let sit until frothy, about five minutes.
> Add 2 c. flour, and 2 tsp. sea salt. Mix together to create a shaggy dough.
> Spray or drizzle 1 tsp. olive oil onto the top of the dough. Place a damp cloth on top and let the dough rise for about an hour, until it doubles.
> Punch the dough, let it rise again until it doubles, about an hour.
> Hand-toss the pizza dough, or roll it out with a roller into a circular shape.
THE TOPPINGS
> Heat your oven to 425 F
> Lightly drizzle 4 T. olive oil across the dough in circles. Sprinkle light salt if desired.
> Using a tablespoon, scoop dollops of ricotta and place in heaps across the pizzas. Do not spread.
> Sprinkle about a cup of shredded mozzarella, very lightly, across the dough.
> Shake out some Everything Bagel™ seasoning for the crust where desired.
> Garlic greens are preferred for this springtime pizza. Any foraged and flavorful greens can be excellent here.
Slice them and add to the top.
> Bake the pizza on a pizza stone for 11 minutes and let cool five minutes before cutting.
Notes: Makes a 12-inch pizza