In the Trench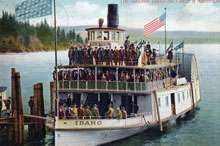 North-South Only
By Mike Turnlund
My wife's paternal great-grandparents, Frank and Della Dutton, came to northern Idaho around 1900. Among the area's earliest white settlers, they had migrated west from De Smet, South Dakota (of Laura Ingalls Wilder fame) to seek a better life. They put down roots in Naples, a very small community located between Bonners Ferry to the north and Sandpoint to the south. There they raised a family of five girls and one boy, before retiring near one of their daughters in Wenatchee, Washington. Their youngest daughter, Roberta, is my wife's paternal grandmother.
I find this history about the Duttons interesting, not the least because it provides me, originally from Minnesota, and my wife, from Oregon, with a personal connection to our adopted state. When my wife's father was a young child, he also lived for a short while in Naples before an economic downturn sent the family packing to Tacoma, Washington, for work.
I've visited Naples many times [see "Naples—Spotlight City," IDAHO magazine, April 2018]. It has become a habit to visit the store and buy something as I travel along Highway 95. Della Dutton's name is engraved on a plaque there, as she is listed among the former postmasters of the post office that still operates today. My father-in-law Wes also loved to visit the combination store and post office whenever he stayed with us in Sandpoint. He was continually fascinated by how little it had changed through the decades.
Naples is odd to me. The layout of the town is unusual, as it occupies a narrow strip of land between two railroad beds. These rival rails come in from the north at intersecting angles and draw parallel for a short distance before parting as they move south of town. At the closest point, they're an easy underhanded toss of a stone apart. Strange. Why is that so? Why did the railroads, the highway, and the town crowd so close together?