Bill's Chili/Smoked Salmon Hash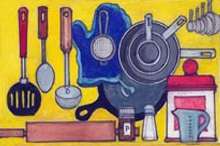 By Amy Story Larson
Bill Crupper, who contributed this month's recipes, got his first cookbook in fourth grade. It was Charlie Brown-themed and in it he discovered Lucy's Lemon Squares, his go-to for that era. Graduating to omelettes with his very own special pan, he fixed six-egg omelettes by age eleven, eating every bite himself. Camping trips got him into grill and Dutch oven creations, wrapping fresh trout, butter, onions, and spices in foil placed on campfire coals.
His parents, Gary and Carol, taught him well, and Bill operated Chef at Your Door Catering around the Boise area with his father from 1995-2000. It has been said by his friends that one never leaves hungry from a Crupper dinner. I can vouch. Bill was the 2021 winner of his company's Boise-branch chili contest.
Bill's Award-Winning Chili
INGREDIENTS
1 chuck roast
New Mexico chilis
Pasilla peppers
3 small onions
1 can of beer
Chili powder, onion powder, cumin, 1 can RoTel™ with habanero
3 cans chili beans with juice
2 cans black beans
1 Tsp. chipotle chili powder
salt, pepper to taste
PREPARATION
> Place chuck roast, New Mexico chilis, Pasilla peppers and onions in a Crock-Pot. Salt and pepper to taste.
> Once cooked, pick out Pasilla peppers, onions, and about 2 tablespoons of meat drippings to place into a blender, and blend.
> Add back into Crock-Pot, along with beer, RoTel™, chili and black beans with juice, chipotle chili powder, chili powder, cumin, and onion powder to taste.
> Simmer until desired texture and flavor are achieved.
Smoked Salmon Hash
INGREDIENTS
3 slices of bacon, chopped and rendered
6 medium red potatoes, parboiled or baked, cut into home-style Hash browns
1 small red onion, sliced
2 jalapeños, sliced
1 small package smoked salmon, cut into bite-sized pieces
Shredded cheddar cheese
PREPARATION
> Chop and render bacon, preferably in a cast-iron skillet.
> Cut parboiled or baked potatoes into cubes to create home-style hash browns. Place in skillet, add salt, pepper, and garlic to taste.
> Add sliced red onions and jalapeños to skillet with potatoes.
> Once all is cooked, add bite-sized salmon pieces to warm them, and then include bacon.
> Plate up servings, adding shredded cheese and a dollop of sour cream to each plate, topped with two eggs, over-easy or poached.
> Salt and pepper to taste.