Boyle Mountain Bonanza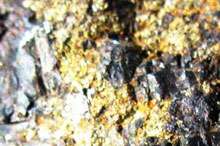 The Forgotten Lodes
Story and photos by Ray Brooks
"Rush for Boyle Mountain!" never became a slogan in big-city newspapers in the 1880s. The one-time mining area never enjoyed a post office, and it suffers from going almost unmentioned in Idaho history. Neither was the huge 2007 Castle Rock Fire kind to the trees or historic structures of 8,969-foot Boyle Mountain, which rises above Warm Springs Creek about eight miles west of Ketchum. The mountain is positioned between two northern tributary streams of Warm Springs Creek, Rooks and Thompson Creeks.
I grew up in Ketchum in the 1950s-'60s. My family, who loved to collect mine artifacts, first became aware of the mines on Boyle Mountain in the fall of 1962, after my nineteen-year-old brother returned from a deer hunt on the Thompson Creek side of Boyle Mountain, bringing back with him a pair of weathered and warped, eight-foot-long, hand-made skis. He reported seeing old mines and cabins high up the mountain.
In the early 1880s, Ketchum was a bustling mining supply town, a transportation hub for the many nearby mining districts, and a smelter town. The large Philadelphia Smelter was built in 1881, just west of Ketchum on a bench at the mouth of Warm Springs Creek. Philadelphia businessmen invested several million dollars in it and in another smelter at Muldoon, north of Carey. They also purchased many of the lead and silver mines in the area. The Oregon Short Line Railroad reached Ketchum in 1884, and a trestle was built over Big Wood River, so trains could be loaded with refined metals right at the smelter. The Philadelphia Smelter processed most of the ore mined in the entire region and was the area's largest employer. The lead and silver mines of nearby Boyle Mountain were important suppliers to that smelter.