The Other Ten Percent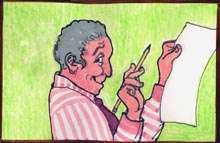 Non-Fans of the Super Bowl
By Steve Carr
As I write this, the National Football League's one hundredth season is winding down. By the time you read this, probably all that will remain from your Super Bowl LIV party will be the empty bean dip bowls, corn chip bits, and dispirited yet determined helium balloons dying a slow death somewhere beneath the now off-kilter ceiling fan and the orange soda stain on the carpet.
Along with the largest television audience since last year's Super Bowl, I will have joined the party. It's not that I don't enjoy gardening, playing tennis, snorkeling, or reading David Sedaris, but who am I to argue with America's real pastime? Everyone watches the Super Bowl.
How can one not be impressed seeing giant Sequoias step with the grace of Rudolf Nureyev while moving at the speed of light? I will have cheered the victors on through the final beer and flavored corn chip commercials.
I'm a little foggy on why New Orleans was my team this year. (They were still a Super Bowl candidate as of my column deadline.) I know I had good reason. I believe it had something to do with a friend's cousin who was once a college roommate with the Saint's back-up punter. I'm practically a Saint myself.
Before last year's game I called my son, Jeff, and daughter-in-law, Sarah, to ask what they were doing for the big game. Were they invited to a party? Did they ask friends over for potluck and a friendly, in-for-a-buck, pick-the-score contest? My excitement was palpable.
"I think we'll buy a bean dip," drolled the mother of my grandson.
I learned later that Jeff watched the game with a friend. I wasn't clear if the friend was the bean dip. Sarah, on the other hand, took a bath and read a book. She was not one of the one hundred million.
A few years ago, when Jeff brought Sarah home for the first time, I told my wife the girl was different. "You just watch, she's not one
of us."
When last year's game ended, I was holding the winning number in the family football lotto. I no longer remember the score, but my ticket won the money! I was twelve dollars richer.
I'm sorry to admit that in another month I won't remember who won this year's game. Truth is, and this hurts, I won't be able to tell you who played. Don't judge. Do you remember who won LIII? That's fifty-three, or in other words, last year. If you're a high school football coach, live in Bean Town, or are named Gisele Bündchen, you don't get to answer.
It's not because we don't love football. This is America. Everyone loves football. I bet you remember the three swamp frogs, "Bud", "Weis" and "Er" from Super Bowl XXIX. That was 1995, when our living room TVs measured thirty-two inches and weighed a thousand pounds. My daughter (who was born in 1992) loves football and has the "Bud-Weis-Er" amphibian chorus down pat.
Anyway, I'm sure the game this year was great. I feel sorry for the ten percent who don't like football. I guess they'd rather read a book. Should I be worried for my grandson?