Cherry Cake/Baked Feta Pasta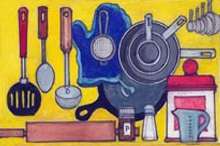 By Amy Story Larson
Cherry Dr. Pepper™ Cake
INGREDIENTS
1 box devil's food chocolate cake mix, dry
1 ½ c. Cherry Dr. Peppertm
1 – 10 oz maraschino cherries (Remove the stems from 15 of the cherries)
PREPARATION
> Mix dry cake mix and Cherry Dr. Peppertm on low until combined.
> Stir in sliced cherries.
> Pour the batter into a 9×13 baking dish and bake at 350 degrees for 28 minutes. Let cool completely.
> Frost and top with cherries. Refrigerate for 30 minutes to 1 hour.
NOTE: We have Charles Alderton to thank for this one, as it seems his 19th Century Morrison's Old Corner Drug Store pharmacy experiment in Waco, Texas has more than paid off. When it came to soda flavors, fruit varieties were the standard back then. Mixing and matching many flavors yielded a drink in 1885 that to this day is still wildly popular.
Baked Feta Pasta Craze
INGREDIENTS
1 box of favorite pasta (recommend gemelli or fusilli)
One 8-oz. block feta cheese
2 c. cherry tomatoes
1 Tbsp. minced garlic
1/4 c. + 1 Tbsp. olive oil
6-7 basil leaves, chopped
1 tsp. salt
1 tsp. black pepper
1 tsp. oregano
Lemon zest
PREPARATION
> Preheat oven to 415°, add cherry tomatoes to a baking dish, and add 1/4 cup olive oil, garlic, salt and pepper. Mix together.
> Add feta cheese block to the center of the baking dish. Top with 1 tablespoon olive oil and oregano. Sprinkle with the lemon zest.
> Bake for 25 to 30 minutes until tomatoes are roasted and feta is soft and melted.
> Bring a large pot of salted water to a boil, and cook pasta as directed. Strain and set aside.
> Remove tomatoes and feta from the oven, add your fresh basil, and gently mix together. Then add your fresh pasta, gently mix all together, and get ready to enjoy!
NOTE: This little lovely has become a hit all over the world, inspiring Feta producers to up their game. I add insane amounts of garlic and basil. I was once influenced by an Italian kitchen sign proclaiming, "There is no such thing as too much garlic!" And basil, in my opinion. Basil is the taste of summer to me, and I grow it to infinity in various pots around the yard.