Chicken Tacos/Grilled Cheese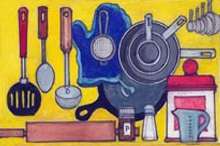 By Amy Story
This month's guest recipes contributor is Gina Buell. I asked her to tell me a little about her life and here's what she wrote:
I was born in Huntington Beach, California, and had a career in cosmetics and the salon business, traveling for from coast-to-coast for my work. I had three children and am soon to be a grandma. After moving to Idaho from California, I bought a home that I sold after the first two children moved out. I went through a divorce, and when the pandemic came on, my career ended abruptly. After waitressing, bartending, and salon work, I met a wonderful man, friend, and then boyfriend who became my boss, Kevin Tuckness. He introduced me to farming and milling and taught me tractor operations and how to set siphon tubes. It's been almost two years now that I've working the field. I never thought I'd go from a city girl with a family who was a traveler and trainer—with hair, makeup, clothes and high heels all on point—to jeans, T-shirt, ball cap, and tennis shoes or work boots. And always dirty. But I love this journey I'm on.
Shredded Chicken Tacos
INGREDIENTS
12 chicken breasts
1/2 large jar of salsa
1 Tbsp. lemon pepper
1 tsp. garlic salt
1 tsp. cayenne pepper
PREPARATION
> In the morning, place chicken breasts, salsa, and seasonings into a crockpot and set on low.
> About eight hours later, shred the chicken with two forks and serve with warmed corn tortillas and all the trimmings.
Not Your Normal Grilled Cheese
INGREDIENTS
Cooked bacon
Grilled tomatoes
Sourdough bread
Cheddar and/or American cheese
Parmesan cheese, grated
PREPARATION
> Put 1 Tbsp. butter into pan on medium heat. Place bread with cheese between slices into THE pan and flip after two minutes.
> Sprinkle grated Parmesan cheese onto the bread and flip after one minute. Add Parmesan to the other side. Flip.
> Open sandwich to add bacon and tomato, and then close it.
This is a crispy, flavorful, and filling grilled cheese sandwich.