Citrus Cinnamon Roll/Spinach Rolls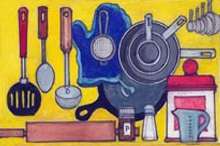 By Amy Story Larson
Citrus Cinnamon Roll French Toast Bake
INGREDIENTS
2 tubes refrigerated cinnamon rolls with icing
4 Tbsp. butter melted
6 eggs
1/2 c.milk
2 tsp. cinnamon, 1/2 tsp. nutmeg
2 tsp. pure Mexican vanilla extract
1 cup maple syrup
1/3 c. grated orange peel for zest
PREPARATION
> Pour the butter on the bottom of a 9×13 glass baking dish.
> Cut each cinnamon roll into 8 pieces, and spread evenly over the butter.
> In a separate bowl, whisk the eggs, milk, cinnamon, and vanilla, and pour over the cinnamon rolls.
> Pour 1 cup of maple syrup over the mixture.
> Bake at 375°F for 45 min.
> Top with the icing from the cinnamon rolls, garnish to taste with orange zest.
NOTE: Christmas brunch is my favorite.
One year at a restaurant by Lake Lowell in Nampa we invited our country neighbors for Christmas Eve morning. We sat along folding tables on hardwood floors as the fireplace crackled and everyone swapped old-timer stories and got their fill and then some of home cooking.
*adapted from stockpilingmoms.com
Spinach Rolls with Ham and Cream Cheese
INGREDIENTS
4 eggs
4 (heaped) Tbsp.plain flour
1/2 tsp. baking powder
3 Tbsp. vegetable oil
2/3 c. frozen spinach
(thawed and water squeezed)
a pinch of salt, pinch of garlic
Optional: pinch of cayenne pepper
3 ham slices
400 g cream cheese
PREPARATION
> Separate the egg whites from the egg yolks.
> Beat the egg whites with a pinch of salt until they form stiff peaks.
> Add the egg yolks, flour,baking powder and mix well, then add the oil and spinach and mix again.
> Pre-heat the oven to 180 degrees Celsius (356 Fahrenheit).
> Line a baking tray with non-stick baking paper, and lightly grease and flour it.
> Spread the batter over, and bake it in the oven for 10 minutes.
> Remove from the oven, and gently roll it,then wrap into a clean kitchen towel, and leave to cool completely.
> Unroll it, spread the cream cheese over, and arrange the ham slices, then roll it tightly from the bottom up.
> Wrap the roll in kitchen foil and refrigerate for at least 3-4 hours before slicing.
> Serve cold!
NOTE: Christmas often means cross-country skiing through the evergreens and freshly fallen white snow. The greenery's contrast reminds me of the season, so spinach-green yumminess is a fitting dish for this festive time of year.
*adapted from mygorgeousrecipes.com