Open Hearth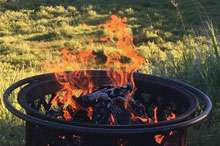 On Sharing Space
Story and Photos by John Davidson
Fifty years I've been gearing up for this, since my first job as a dishwasher, at fourteen. I'd think about who would be using plates, cups, silverware, saucers. My grandmother Mary had instilled in me a sense of considering end users when I picked huckleberries, caught brook trout, gathered pine cones for fires. I'd spend summers with her in McCall and, by design, or just because that's who she was, she taught me early on to think of others, to imagine the delight felt by whomever was receiving whatever gift. While making a pie from the purple stash of hucks, she'd go on about how much so and so was going to savor the end result. It was a great life lesson. That I'd take a twenty-year hiatus from thinking about anything but where the next drink or drug would come from was out ahead, a couple years off, but a foundation had been laid—it just took a while to get back to building.
It's in place now, the home on the North Fork of the Payette I've spent thirty years getting ready for guests. And they come, from all over the world. All colors, shapes, sizes, dispositions, and while they may arrive in an agitated state, scurrying to get on cell phones, tablets, whatever, the birds, breeze, colors, night sky, and the quiet, especially the quiet, work their magic. The combo calms them, most always. Some wouldn't slow down if you hit them with a maul or tranquilizer dart, but the seed's planted, and you hope they'll let their foot off the pedal at some point. There's a game trail just below the camp I think of as Transition Trail. I don't name it such but I always point it out, recommend it, then watch, and listen.
It's the guests' reactions, perceptions, impressions of place, the sounds they mention, birds they've seen, tracks or scat of animals, the animals themselves . . . this is what interests me. I get to see and hear things through the eyes and ears of people from Istanbul, Amsterdam, Boston, Boise. Many Europeans speak such excellent English that I'll ask them what part of the country they're from, which state. "We're actually from Norway, John." Often they're capable of repeating the answer, fluently, in several languages.