Elemental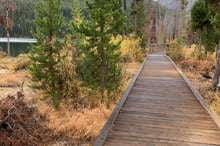 A Solo Sojourn in the Woods
Story and Photos by Kim Steinberg
The one-room cabin in Stanley is basic: bed, kitchen, bathroom. Faded teal and rose- flowered curtains hang in the cracked window. A glint of light pokes through. The shower faucets are incorrectly labeled—cold is hot and hot is cold. A round hole in the door is covered by tape where the deadbolt used to be. But I'm not here for luxury.
It's September 2021, and I'm here for a personal retreat, because I haven't written much since my husband had emergency open-heart surgery three months ago. I was afraid that if I took a solo retreat, even for a few days, he might die while I was gone. The aortic dissection had come without warning while I was in Utah on vacation with my sister. By the time I drove the ten hours back to Boise, the surgery was over and he was in recovery. I came to Stanley despite my fear because I craved solitude, needed the time away, and hoped the retreat would catapult me back into writing.
This morning, the inner critic is at work: You have nothing worthwhile to say. Why are you wasting money on a mountain cabin? You're never going to publish anything. Her voice is sharp, critical and skeptical. I know her well. I shuffle papers around, pull a pen out of the backpack, glance at the clock. I check the weather app on my phone. I have two bars but it's enough. It's thirty degrees, with a high of seventy-three. The air is eleven percent humidity, sunny, and clear. I woke with a nose as dry as dust, breath shallow and sticky.
The yellow legal pad sits on the table, a black ink gel pen on top, my favorite writing materials. I pick up the pen, set the timer, and write for fifteen minutes. Julia Cameron came up with the term "morning pages." Three pages of longhand without stopping. Usually, the last paragraph is the most interesting. Today, it says: "I am breaking through into the light and I will go looking for it. In the mountains and streams, I will capture what I feel and see. Write something for someone. Go out to the woods, valleys, lakes, and rivers. Write about the Sawtooth Range."