Ever-Green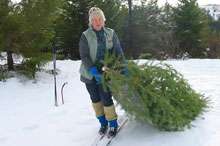 How to Get the Most out of Your Tree
Story and Photos by Jim Fazio
Driving through Moscow the day after Christmas, I couldn't help but notice discarded Christmas trees already at the curb outside some houses. It was a sad sight. How could these icons of joy and beauty be consigned so quickly to a heartless fate?
It would never happen in the Fazio household. I grew up with the Great Depression fresh in the memories of my parents and relatives. Nothing was discarded except true trash. We stockpiled paper bags, kept rubber bands in a tin box, wound string into a huge ball, put coffee grounds in the garden, and practiced recycling long before the word was part of the politically-correct vocabulary. And at Christmas, wrapping paper was folded after gifts were opened, ribbon was placed in the closet, and the tree didn't come down until late in January.
I've tried to teach my own children some of these frugal ways, but it hasn't been easy. Even the chore assigned to my daughter to sort and put recyclables at the curb each week was met with resistance. But the Christmas tree was different. There we had—and have—established traditions that make our tree perhaps the most-used, longest-lasting one in town, and the source of many happy memories.