Falling in Love with History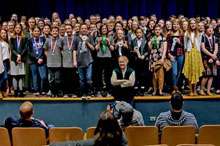 For Idaho Students, an Annual Ritual
Four hundred and twenty-eight of Idaho's most distinguished young scholars and historians gathered on April 6 at The College of Idaho in Caldwell for an exhibition and contest called National History Day in Idaho. IDAHO magazine publisher Kitty Fleischman, who helped to judge the contest (as she has done for years), remarked, "I've often been moved to tears, as have many of the judges, by the work of these students from high schools throughout the state. Their work on exhibits, papers, documentaries, websites, and in performances is truly remarkable."
The volunteer judges selected first-place through four-place finishers in a number of categories based on the ages of the students and the media in which they worked. Twenty special awards also were given, sponsored by community partners such as BSU, The Peregrine Fund, Idaho National Laboratories, the Idaho Press Tribune, and our own IDAHO magazine.
The top two individual or team finishers in each category became eligible to compete at the national level this month, June 10-14, at the University of Maryland in College Park, Maryland. These sixty Idaho students will represent the state, compete in their categories and for special awards and scholarships, and have access to exceptional educational opportunities. One entry from Idaho will be selected for display at the Smithsonian Institute's National Museum of American History during the contest. All the students will get free tickets to visit sites such as the United States Holocaust Memorial Museum, the Newseum, and special tours of the Library of Congress.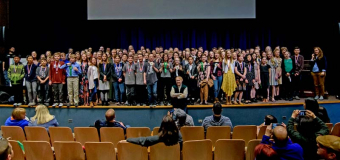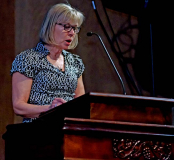 Kitty and her husband, Gerry Fleischman, who was also a judge and is the magazine's sales associate, had their work cut out choosing winners. In the end, the IDAHO magazine History Awards went to these three students:
First Place: From Renaissance High School in Meridian, Sara Panter's exhibit titled, "Dickey Chapelle: Triumph in Fighting Sexism's Tragedies," was about the American photojournalist and war photographer whose career spanned nearly thirty years. Dickey Chapelle documented conflicts around the globe from World War II to Vietnam. She was killed in 1965 while on assignment with the Marines in Vietnam when a piece of shrapnel from a trap hit her in the throat—the first American woman reporter to be killed while on assignment.
Second Place: Xyani-rae Ebert of Idaho Arts Charter School in Nampa exhibited "The Big Burn," about the 1910 wildfire that raged through Idaho, Montana, and Washington. One of the largest fires in American history, it happened just a few years after the Forest Service began, and consumed more than three million acres. Seventy-eight firefighters and at least seven residents died as a result of the flames fanned by 78 m.p.h. winds. Thousands more were impacted by the fire's fallout.
Third Place: Renaissance High School's Hannah Little created a documentary entitled, "Healing a Divided Nation: The Birth of Arlington National Cemetery." The land was once owned by George Washington, who eventually willed to his great-granddaughter, Mary Anna Randolph Custis. She married US Army 2nd Lt. Robert E. Lee, who later commanded the Confederate Army of Northern Virginia during the Civil War. The property was confiscated by the Union, and Mary Lee's son sued to recover it. Eventually he was successful, but by then the land held six thousand graves from soldiers of both sides. The government bought it back from him and officially made it a national cemetery. Hannah's film was also awarded First Place in the senior division for individual documentaries.
Scholarships to The College of Idaho were awarded to three seniors: twenty thousand dollars to Elizabeth Hunt of Compass Charter School in Meridian, ten thousand dollars to Salma Schwartzman of Riverstone International School in Boise, and five thousand dollars to Joclynn Howell of Caldwell Senior High School. Also, a two thousand dollar scholarship to any Idaho school was awarded to Hailey Nelson of Renaissance High School.
A comment by one student summed the value of the annual event: "This taught me there is so much more to history that I originally thought. I began to fall in love with history." —The Editors