From Where I Sit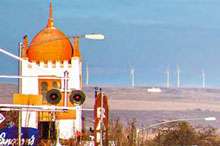 A Magic View of the Magic Valley
Story and Photos by Michael Rogers
For me, telling a story about Idaho is easy. Telling a story about the town of Buhl, where I live, on the west end of the Magic Valley of south-central Idaho eighteen miles west of Twin Falls, is really easy—and the reason is because I am not from here.
When I moved to Buhl in 2005, after thirty-one years living in Fairbanks, Alaska, I saw things differently because I was a newcomer. I know from experience that this is a good thing, because in my line of work, driving trucks, I constantly see many places that are new to my eyes.
My first impression of Buhl when I moved here was how interesting it was that the main road, US Highway 30, slopes down. This interested me because when I started driving a tractor trailer for a Castleford company, I got an excellent view of that sloping terrain. The difference compared to most drivers is that from behind the wheel of a tractor trailer you have more to see and a bigger window to see it through. I always thought the highway descending in Buhl would make a great photo, but obviously, it would be dangerous and illegal to take a photo and drive at the same time.