Ham Sandwich/"Tarry" Cake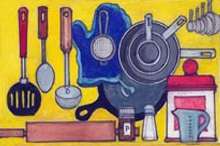 By Amy Larson
Coralie's Hot Ham Sandwiches
INGREDIENTS
1 lb. chopped ham, diced
1 medium onion, diced
8 boiled eggs, diced
¾ c. mayonnaise
½ Tbsp. mustard
Salt and pepper to taste
Grated cheddar cheese
10 hamburger buns
PREPARATION
Mix all ingredients together, except for cheese and buns.
Open buns and add the filling. Sprinkle with cheese, then replace the tops and wrap each sandwich in aluminum foil.
Bake at 350 degrees, checking under foil occasionally until done.
NOTE: Coralie and Casey Mattox are neighbors of ours. In his younger years, Casey traveled to Peru, came to love the people, and promised himself he'd marry a Peruvian someday. He didn't know he'd already met a Peruvian, one who'd become his wife. They'd gone to the same high school in Pocatello, and had even sung in the same choir, yet didn't know each other. Years later, they laughed over a yearbook photo of their choir, with both of them in the picture. The Mattox family now has four children, several chickens, and some very good meals.
Jared's "Tarry" Cake
INGREDIENTS
1 box yellow cake mix
1 20 oz. can of crushed pineapple
1 1/3 c. sugar
1 ¾ box French vanilla instant pudding
1 ½ c. heavy cream
1 c. coconut
PREPARATION
Preheat oven to 350 degrees. Grease a 13" x 9 " pan.
Prepare cake mix as directed on box. Pour into prepared pan. Bake 30-35 minutes. While cake is baking, combine pineapple and 1 cup of sugar in a saucepan. Bring to a boil over medium heat, stirring constantly. Remove from heat and allow to cool slightly. Remove cake from oven and pierce holes in cake with a fork. Pour pineapple mixture over hot cake and allow to cool.
Prepare pudding according to package directions. Spread over cake and refrigerate until thoroughly chilled. Before serving, beat cream and remaining sugar together with an electric beater until stiff. Cover top of cake with whipped cream and sprinkle with coconut.
NOTE: My son Jared Story has been a long-time collector of recipes. He got this one from a man with the last name of "Tarry", and henceforth the dessert's been named "Tarry" Cake. Jared says if he were forced to choose only one cake to eat for the rest of his life, it would be this one.
These recipe pages are brought to you by the IDAHO DAIRY COUNCIL.